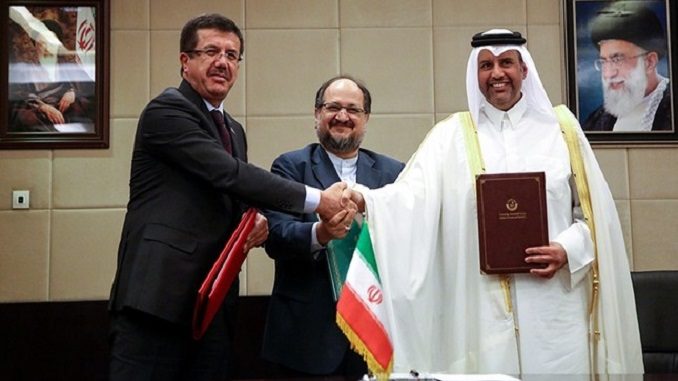 Iran and Turkey signed a deal on Sunday with Qatar aimed at boosting commercial ties with the Gulf state that is under blockade by its Arab neighbours, Iranian state television said. The broadcaster's website said the agreement provides for the creation of a "joint working group to facilitate the transit of goods between the three countries," Middle East Eye reports.
A tripartite meeting among Sheikh Ahmed bin Jassim, Shariatmadari, and Turkey's Economy Minister Nihat Zeybekci was held, where they discussed ways of co-operation among the three countries in economy and trade.
It also said the three nations aim to tackle "obstacles to sending goods from Iran and Turkey to Qatar." Qatar's relationship with Shia-dominated Iran, seen as the major rival to Sunni-ruled Saudi Arabia in the Middle East, is one of the major factors underpinning the crisis between Qatar and its former allies.
Qatari Minister of Economy and Commerce, Sheikh Ahmed bin Jassim bin Mohamed al-Thani also met Iranian Foreign Minister Mohamed Javad Zarif, in the presence of Qatar's ambassador to Iran Ali bin Hamad al-Sulaiti. They reviewed the outcomes of the visit of the Qatari delegation to Iran and discussed ways of co-operation between the two countries, especially in economy and trade.
Saudi Arabia, Bahrain, the United Arab Emirates and Egypt all cut ties with Qatar in June, accusing Doha of backing extremism and fostering ties with Iran, charges that Qatar denies.
"Saudi policies have divided the Gulf states by "attacking Qatar without an exit strategy. It has all been counterproductive to the stability of the region," Qatar's Foreign Minister Mohammad bin Abdulrahman al-Thani said recently in London. The World Trade Organisation last week agreed to hear Qatar's complaint against the United Arab Emirates over the blockade. Qatar turned to the WTO in August, insisting it was the victim of an "illegal siege" perpetrated by Saudi Arabia, the United Arab Emirates and Bahrain.
Back in August, Doha decided to return its ambassador to Tehran, more than 20 months after he was recalled, and strengthen its ties with Tehran amid a diplomatic rift between Qatar and several other Arab countries, including Saudi Arabia, the UAE, Egypt and Bahrain.
Since the crisis erupted, Iran and Turkey – whose relations have warmed considerably in recent months – have sought to help break Qatar's isolation, including by increasing food exports to the country.
The diplomatic crisis, the worst since the 1990 invasion of Kuwait by Iraq and the subsequent Persian Gulf War, has seen the Arab nations cut ties to Qatar, which hosts a major U.S. military base and will be the host of the 2022 FIFA World Cup. Doha has been receiving fresh food supplies from Iran, which has also allowed Qatar's national carrier to use its airspace.
Iran and Qatar have been forging stronger economic ties ever since a number of Arab states abruptly severed diplomatic relations with Doha early June and imposed a blockade on the Persian Gulf country.
Latest statistics released by the Islamic Republic of Iran Customs Administration show Iran exported $139 million worth of non-oil goods to Qatar during the seven months to October 22, registering a remarkable %117.5 increase compared with the same period last year. Notably, Iran's exports to Qatar saw a significant growth during the month to October 22. Iran exported about $50 million of non-oil products to Qatar during the one-month period, which shows a five-fold upsurge year over year.
Turkey and Azerbaijan have been using Iran as a land route to export to Qatar, filling the gap in the market in the absence of Saudi Arabia and its allies after the crisis broke out. According to Mohammed bin Mahdi Al Ahbabi, a board member of Qatar Chamber of Commerce and Industry, the land route between Turkey and Qatar via Iran reduces the cost of transport of goods by about 80% compared to air cargo.