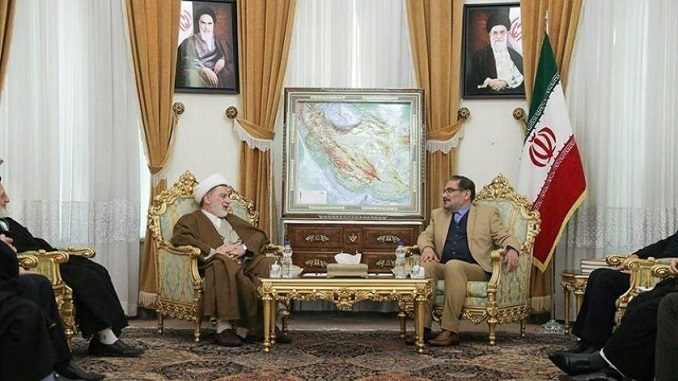 Iran issued a warning on Monday against any attempts to dissolve the Hashd al-Shaabi or Popular Mobilization Forces (PMF) in Iraq, and considered any calls to dismantle those units, which include militias loyal to Tehran, as a "conspiracy."
Secretary of Iran's Supreme National Security Council Ali Shamkhani said that the call for dissolving the PMF is a "new conspiracy that would drive the comeback of instability and terrorism to the region." He made his remarks during a meeting in Tehran on Monday with Humam Hamoudi, the head of Iraq's Islamic Supreme Council and the country's first deputy parliament speaker, Iran's news agency ISNA informed.
"The patience and perseverance of the Iraqi people and the heroics of the country's army, security and popular forces, especially the PMF, led to the destruction of the region's greatest threat, ISIS, despite the discontent of some countries," Shamkhani added.
He emphasized that the wisdom of the Iraqi officials and deputies would not allow the enemies to sew conspiracies that would disintegrate the country.
Sources close to the Islamic Supreme Council said that Hamoudi's visit to Tehran aims to inform the Iranian leadership about the nature of alliances in the upcoming elections and to discuss the fate of Iraq's Shi'ite "National Alliance."
Some Shi'ite blocs and figures, including the Islamic Supreme Council, are concerned about the "ambiguous" future that awaits the National Alliance, after the withdrawal of the Sadrist Movement and divisions among its members.
Some sources said that Iran was currently exerting efforts to "repair" the crack left inside the Alliance and to make sure that Shi'ite forces would win the prime ministry seat during the upcoming round of elections.
On Sunday, Hamoudi criticized French President Emmanuel Macron, who on Saturday called on Iraq to dismantle all militias, including an Iran-backed military force, and for the government in Baghdad to open dialogue to ease tensions with Iraqi Kurdish leaders.
Hamoudi said that the French position was an intervention in the internal affairs of Iraq.