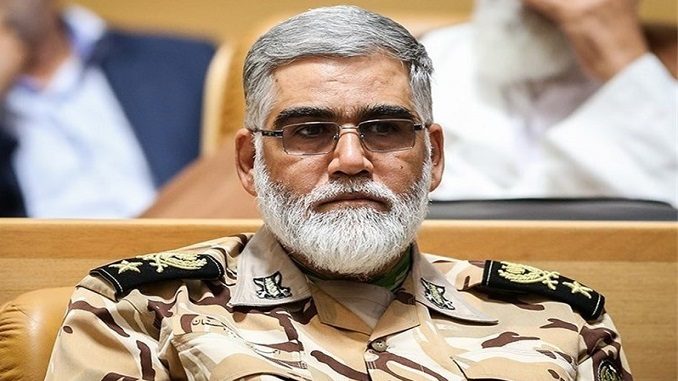 Deputy commander of the Iranian army had confirmed that Russia has launched cruise missiles from Iranian territory on targets in Syria, with the approval of Iran's general staff, Radio Farda reports.
Ahmad Reza Pourdastan speaking to Tasnim news agency also said that the missiles were fired from Nozheh base in Hamadan, western Iran based on the "unwritten" agreement between the two countries and "in support of Syria". He did not elaborate when or on how many occasions Russia has fired missiles from Iran.
General Pourdastan also spoke the use of Iranian airbases by Russian warplanes.
"The route for some Russian planes passes over Iran to reach Syria and hit ISIS. Only Nozheh base has the capability to provide services to Russian warplanes…but we did not put the airbase under the control of the Russian" but their warplanes landed there only to be serviced," he said.
The Iranian commander also explained that when Russian warplanes need to land, they have to coordinate with Iran and "we give them permission." He claimed that on some occasions they did not have permission and had to return. Previously, Iranian officials had mentioned that Russian planes "on some occasions" are allowed to use Iranian bases. In August 2016 Russia announced that its warplanes use the Nozheh airbase to attack targets in Syria. Iran's defense minister at the time, Hossein Dehqan had criticized Russia's announcement calling it an "unkind" act.
The Russian defense ministry reported that Tupolev-22M3 bombers and Sukhoi-34 strike fighters took off from Hamedan and hit targets in the provinces of Aleppo, Idlib, and Deir ez-Zor today. The Russian defense ministry has also reportedly requested permission from the Iraqi and Iranian governments to use their airspace for launching cruise missiles.
Hosting Russian jets on Iranian territory is a departure for Tehran from its hitherto history of covert operations in regional conflicts. It is believed to be the first time Russian warplanes have been deployed in Iran in at least half a century.
Contrary to extant Western reporting, however, this would not be the first time that Russian bombers have used the base in Hamedan to launch operations in Syria since the Kremlin's military intervention began in October 2015.
AllSource satellite imagery in December 2015 identified Russian planes at the same military base in the western Iranian province of Hamedan, also known as Shahid Nozheh Air Base. The Russian Air Force, however, has primarily flown its jets from Mozdok military base in southern Russia along with a corridor through the Caspian Sea, Iran, and Iraq to strike targets in Syria.