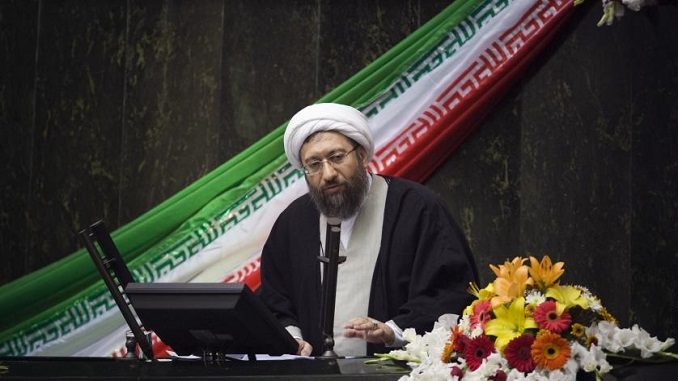 It has been nearly one month since the rise of popular protests in several parts of Iran, yet senior Iranian officials continue to accuse foreign parties of standing behind these demonstrations in the Iranian streets, Asharq al-Awsat reports.
The latest of these accusations was from Iranian Judiciary Chief Sadegh Larijani, who did not address the internal reasons behind the protests and said that the U.S. has invested millions of dollars in order to provoke "unrest and destabilization as it seeks to overthrow the regime." Iran's former reformist President Mohammad Khatami, for his part, said that the protests were caused by a decline in popular confidence in governors and political movements, including his reformist movement.
In an address to a meeting of senior Judiciary officials in Tehran on Monday, Larijani said that during the recent incidents, "some newspapers and people were saying that such events usually occur in every society."
"Is there really no problem with chaos, sabotage and extraordinary (anti-regime) attitudes?" Larijani asked.
In December 28, protests broke out in the city of Mashhad under the slogan "No for hike in prices," soon after that, 80 Iranian cities witnessed spontaneous protests that turned from slogans calling for improving the living situation to slogans calling for the overthrow of the regime and death of senior officials, most notably the Iranian Supreme leader. Relative calm returned to Iranian cities after 10 days of clashes between security forces and protesters.
Contrary to what officials said regarding the release of protesters, Larijani said that "the bad guys and the saboteurs in the recent protests will definitely receive the punishment they deserve." Larijani claimed that the Iranian regime is an alternative to the liberal democratic system, pointing out that the Iranian behavior at the regional and international levels, which is opposed by the United States, is a result of this alternative system.
He noted that U.S. has publicly and clearly stated that it seeks regime change in Iran. This, he said, is a sign of its enmity towards Iran.  He said that these realities make it necessary for the Iranian officials and nation to remain vigilant about U.S. overt and covert plans to infiltrate and weaken Iran.
Also, an Iranian regime's political expert on the recent anti-government protests in Iran wrote a warning saying "let's not allow the threats become a tsunami".
"If instead of managing crisis solutions we manage the crisis evading, today's threats will turn into a tomorrow's tsunami and all of us will be uprooted."
According to the expert, "the two mainstream so-called reformists and hardliners in the country, whether in their full authority or in an alliance called the moderation, not only did not have a desirable record but are going to be totally failed." Sadegh Maleki, while saying that the protests were a wakeup call and a warning, wrote:
"The protests subsided and the filtering of Telegram removed. But trying to minimize the protests by attributing them to foreign and/or factional intrusion and provocation is, if not projection, is burying your head in the sand not to see or understand what happens. We have days and years of difficulty ahead of us and we must not escape the problems, but we must find solutions to the problems. There is no room for comfort and satisfaction. The story is not over, and the protests are signs of a serious illness that, if the analysis of its causes is oversimplified, it will not be an illness that is hard to cure, but rather an incurable illness."
The recent uprising sweeping across Iran is rattling the very pillars of the ruling regime. Despite claims and analysis of this movement coming to an end, senior Iranian officials and state media continue to express concerns about its impact, and what lies ahead.  Although many of these remarks are made in line with Iran's hardliners targeting the government of Iranian President Hassan Rouhani, they reflect the undeniable reality that the people completely abhor the entire regime.
This indicates the protests, with people demanding higher salaries, employment, improved education and healthcare, an end to corruption and the regime in its totality, are far from over. The road ahead for Tehran will be very bumpy, to say the least. Saeed Zeebakalam, known for his ties to the faction loyal to Iranian Supreme Leader Ali Khamenei, shed more light on the people's increasing anger.
"I believe the people are literally tired of five years of promises, deceits, we will do this and that; five years of smiles coupled with shams. This means from 2013 onward they are providing nothing but lies to the people. On a daily basis, the nation is witnessing skyrocketing prices, decreasing purchasing power and rising unemployment," he said according to a state website.
Despite being dubbed as a moderate in the West, Rouhani's ties with the clerical establishment dates back to the early days of this dictatorship, being one of the pupils of Iranian regime founder Ayatollah Ruhollah Khomeini himself.  Rouhani is best described as Khamenei's latest character in his 29-year ventriloquist show. However, heard vividly in their recent chants of "Reformists, principalists, end of story," the Iranian people have made it crystal clear their target is the regime in its entirety.
Gholamhossein Karbaschi, former Tehran mayor and close to Rouhani, is describing as useless his deceitful remarks and attempting to act as an opposition to Khamenei's faction. The people's daily dilemmas are the result of policies implemented by the ruling elite and now Rouhani's cabinet, all igniting the flames of the current uprising, according to Karbaschi.
"Rouhani must target the roots of these problems. If various state officials say the protests must be taken into note, as if they are merely analysts or media commentators, no actions will be taken. The government must take practical measures to resolve the roots of the people's demands," he suggests.
His remarks are a stark warning to all factions of the Iranian regime to take these current protests seriously.
"It is very shameful for these protests and latest events to once again become the subject of internal quarrels between factions and individuals, and once again for the people to feel their problems have been forgotten," he said to a semi-official news agency.
At a first glance, these remarks are made along the lines of Iran's ongoing factional disputes. Looking deeper, we must not neglect this reality that such words reflect grave concerns among Iran's ruling elite, all rendering from this latest wave of protests. For those familiar with Iran in the past four decades, this also indicates the clerical regime is facing a major impasse.
The two-week protest movement that rocked cities across Iran earlier this year has largely subsided, but the fallout from the government's harsh response has just begun. More than 3,700 people were arrested and 23 were killed in sometimes violent nationwide marches that started on Dec. 28, 2017, in response to an austerity budget proposed by President Hasan Rouhani.
At first, the protests were a display of anger by working-class Iranians, in the city of Mashhad, who complained of poverty and inequality. But the unrest soon spread to more than 80 cities. And as thousands of disenchanted citizens widened the agenda to include corruption, human rights, foreign policy and women's empowerment, police began to crack down.
Now, family members have begun gathering by the thousands outside Iranian jails. As an Iranian-born scholar, I see this vigil as a warning to the government: Violence against dissidents will not go unnoticed. It's a sign that unrest in Iran is far from over.
Between Rouhani's ineffectiveness and Khamenei's state-sanctioned violence, both leaders seem to have alienated Iranian voters.  The damage may be beyond repair. Protest slogans like "Overthrow the clerics' regime" and "Death to Rouhani" suggest that for the first time since 1979, Iranians are demanding not incremental reform but a whole new era – one without an omnipotent, unaccountable supreme leader.
But Rouhani – who has a doctorate in constitutional law from a Scottish university – is also smart enough to observe that this medieval dual-government system is struggling to survive in modern, restive Iran.  Time may heal all. Khamenei is 78 years old and in poor health. In my assessment, it is conceivable that his death could actually mark the beginning of the end of supreme leadership in Iran.
And if it doesn't, then Iran's uprisings will go on.