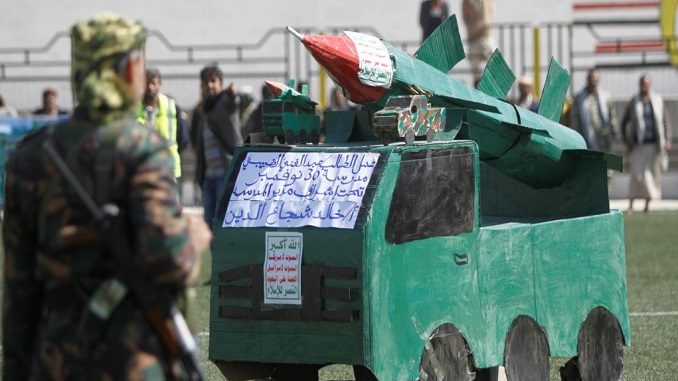 An Iranian official says Saudi Arabia should know that if Iranian missiles were used in the Yemen conflict, the outcome of the war would be totally different, as Tehran continues to push back against allegations that it is arming Houthi rebels, Voice of America reports.
"We have announced repeatedly that the Yemeni army and people have the support of Iran. However, we have also made it clear that we have not given any missiles to Yemenis," said Hossein Naqavi Hosseini, the spokesman for the Iranian Parliament's National Security and Foreign Policy Commission, speaking Sunday.
Houthi rebels of Yemen fired a second ballistic missile into Saudi Arabia last Tuesday. Saudi air defense said the missile was successfully intercepted. Houthi-affiliated al-Masirah TV stated that the ballistic missile targeted the al-Yamamah royal palace in Riyadh, the official headquarters of the Saudi king.
"As your crimes and tyranny increase, you will find nothing but our missiles," Houthi leader Abdulmalik al-Houthi said in a televised speech.
The Iranian lawmaker says the Islamic Republic has the courage, authority and honesty to explicitly declare if it has provided another country with missiles. He also added that the Saudis must be held accountable for the bombardment of Yemeni people and say which countries have given them these weapons to kill Yemenis.
Taking a swipe at the U.S. ambassador to the UN for accusing Iran of providing Yemen's Ansarullah movement with missiles fired against Saudi targets, the lawmaker said Iran is courageous enough to publicize its military support for others.
His comments came after U.S. Ambassador to the United Nations Nikki Haley stood amid missile fragments at a military base in Washington on December 14 to show what she called proof that Iran is supplying Houthis in Yemen with weapons in "absolute and undeniable violations" of UN resolutions.
Charts and photographs were on display next to the missile parts, which were provided by Saudi Arabia. They showed, Haley claimed, that the weapon fired at the main airport in the Saudi capital Riyadh on Nov. 4 was an Iranian-made Qiam ballistic missile.
Naqavi Hosseini also said that Saudi Arabia should explain from whom it has purchased the bombs it is using to kill people in Yemen.
"While Iran has been calling for ceasefire, aid, and dialogue in Yemen from day 1, U.S. has sold weapons enabling its allies to kill civilians and impose famine. No amount of alternative facts or alternative evidence covers up U.S. complicity in war crimes," Zarif said in a tweet on December 15.
Other Iranian officials reiterated the same claims in the past days.
"We are not worried about the fact that the world knows Iran has given arms to Iraq, Syria, or Lebanon," Ali Akbar Velayati, a senior adviser to Supreme Leader Ali Khamenei, told Iran's Arabic News Channel Al-Alam on December 20.
Velayati insisted that "these weapons are used to confront Da'esh (Islamic State militants or IS) and another takfiri (Sunni extremist) terrorist movements in the region." Meanwhile, he maintained Iran has never provided Houthis with missiles.
Velayati insisted in his interview with Al-Alam that Iran has not supplied any missiles to Yemen, adding Yemen does not need any arms as the nation has so far been quite capable to stand against the "Saudi aggression" with the military equipment it already possesses.
"This is not the first time this woman [Haley] has said such nonsense. She, who has no solid diplomatic record, makes comments that force even other [UN] envoys and U.S. diplomats to protest," he said.
Speaking at a meeting of commanders of the Iranian Army in Tehran on December 20, Iranian Defense Minister Amir Hatami denounced the "unfounded and baseless allegations" leveled against Iran by Haley and said such claims are indicative of the failure of Washington's policies in the region and the world.
"Such remarks are more like "a ridiculous and worthless show," he said. He further made assurances that Iran would pursue the issue through legal channels.