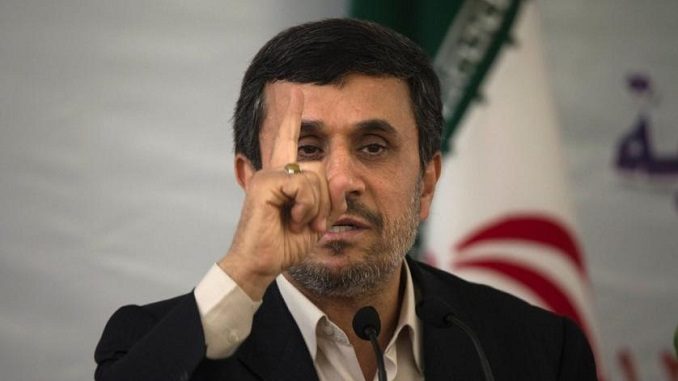 Former Iranian President Mahmoud Ahmadinejad renewed on Monday his criticism of senior officials, attacking the policies of current President Hassan Rouhani over the recently unveiled state budget, while also demanding the restructuring of the judiciary, Asharq al-Awsat reports. He said before a student gathering that the budget had deprived some 40 million Iranians from government-approved aid.
During his failed presidential bid earlier this year, he had vowed to double this aid and defended on Monday his decision in 2014 to raise the funds by 120 percent. He also accused the government and parliament of raising prices in the country and abandoning their commitment to provide financial aid to the people.
Rouhani had presented the new state budget two weeks ago. Parliament has six weeks to deliberate on it before putting it to a final vote.
Ahmadinejad also did not spare the judiciary from his criticism, demanding two weeks ago the resignation of head of the judicial Sadiq Larijani. The former president said that the judiciary suffer from a disciplinary problem, as well as issues related to its structure. He singled out the politicization of the judiciary and its exploitation to achieve political gains. He gave the example of making accusations and releasing them in the media before even a suspect is convicted of a crime.
Ahmadinejad criticized arbitrary arrests, the spread of rumors, detention without trial, intimidation of judges, violation of the judiciary's impartiality, pressure exerted on lawyers and their prevention of representing defendants as some of several other problems plaguing Iran's judiciary. He then offered a number of proposals to restructure the judiciary.
Yet, "Who's mentally ill?" has become the main topic in the new round of muscle flexing between former Ahmadinejad's camp and the Islamic Republic's judiciary. At his weekly press conference Sunday, December 24, judiciary's spokesman, mid-ranking cleric Gholam-Hossein Mohseni Ejei accused Ahmadinejad of being mentally ill. Retaliating, Ahmadinejad's top aide described Mohseni Ejei as a mentally ill person.
Meanwhile, Ahmadinejad's former deputy in executive affairs, Hamid Baghaei compared the judiciary's spokesman to chief commander of SS in Germany under Nazis, Heinrich Himmler. In implicit comments, Mohseni Ejei said, he [Ahmadinejad] is suffering from mental disorder and, if necessary, his lawsuit will be handed over to the legal examiner. Hours later, former president's top aide, Ali Akbar Javanfekr, fired back on his Telegram Channel:
"Is it not wise to directly hospitalize and refer to the medical examiner a 60+-year old person [Mohseni Ejei] who dresses as a clergy, counts as an elder with white beard and occupies high state positions frivolously whistling in public and singling out himself as a clown?"
While responding to Ahmadinejad's vitriolic attacks on judiciary and circulated as video clips in social media, Mohseni Ejei heckled, "The former president and his companions should firstly be examined by medical jurisprudence to decide whether they are mentally sound or not, since their behavior does not make sense". The Islamic republic's penal code has exempted mentally ill people to be punished for a crime.
The war of words between judiciary and Ahmadinejad's camp has been going on for weeks, while the Supreme Leader, ayatollah Khamenei has apparently decided to stay away from it. Nevertheless, Tehran's Friday Prayer leader recently called on the Iran's authorities to avoid airing their dirty laundry in public.