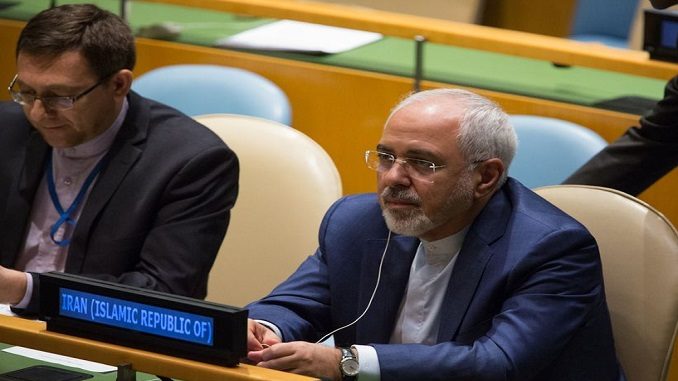 Iran's foreign minister Mohammad Javad Zarif claims the country is willing to accept a tougher nuclear inspection regime in six years, but adamantly rules out any renegotiation of a 2015 agreement U.S. President Donald Trump has called an "embarrassment" and "the worst deal ever," Bloomberg reports.
Zarif has said that Trump "would open a Pandora's box" if he tries to renegotiate terms of the Iran's nuclear agreement with world powers.
"If Congress behaves, in 6 years from now, we will be ratifying the Additional Protocol, the most intrusive inspection regime that is available," Zarif said Wednesday.
He was referring to a broader and more intrusive, but voluntary, inspection regime of nuclear facilities established by the International Atomic Energy Agency. Iran and the five permanent members of the United Nations Security Council – the United States, France, Britain, Russia and China – plus Germany signed the nuclear agreement on July 14, 2015 and started implementing it on January 16, 2016.
"We dealt with all these issues. It took us many years. It took us 10 years of posturing on all sides and two years of serious negotiations to reach this deal. I don't expect that a new round will produce any better results. In fact, a new round will get us in a quagmire that nobody will be able to get out of," added Zarif.
Iran previously signed, but never ratified, the Additional Protocol, and while it was included as part of the 2015 nuclear accord, Iran's government had not set a timeline for when it would be ratified.
Since Trump took office, the U.S. has launched an attack against the nuclear deal, threatening to abandon the deal on multiple occasions.
Zarif's comments in New York came less than three weeks before Trump has to decide whether to "certify" Iran's compliance with the nuclear accord, a measure required under U.S. law every 90 days. While Trump twice previously signed off on a statement of compliance, he's signaled he won't do so when required to issue his decision October 15. Zarif stated that if the U.S. withdraws from the deal, Tehran is no longer bound by that agreement, adding, we will then "decide how we want to deal with it."
"It does not mean that Iran wants to pursue a nuclear weapons option. But what is important is if the deal is broken, then Iran has many options, one of which would be to have an unlimited yet peaceful nuclear energy program," he stressed.
The notification to Congress, even if Trump declines to certify Iran's compliance, doesn't necessarily mean the U.S. is abandoning the accord.
One proposal weighed by the U.S. has been to seek the elimination of sunset provisions in the agreement which, starting in 2025, ease restrictions on Iran's enrichment of uranium. But beyond the U.S. and Israel, there appears to be little support for reopening the agreement, which lifted a range of tough economic sanctions imposed on Iran during the Obama administration in exchange for ending the Islamic Republic's nuclear weapons program.