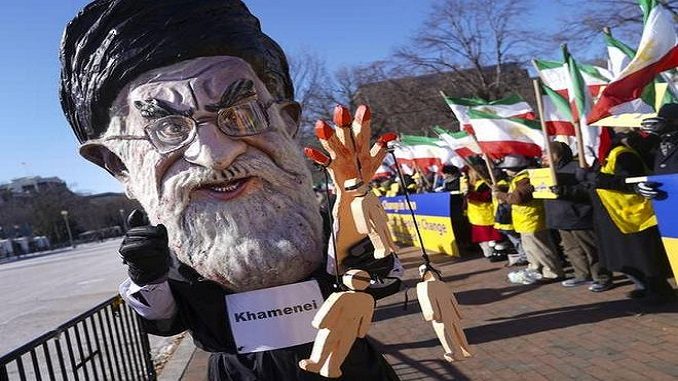 Iran's Islamic Revolutionary Guards Corps (IRGC) says anti-government protests that it blames on foreign instigators have been "defeated," RFERL reports.
"Iran's revolutionary people along with tens of thousands of Basij forces, police and the Intelligence Ministry have broken down the chain (of unrest) created … by the United States, Britain, the Zionist regime (Israel), Saudi Arabia, the hypocrites (Mujahideen) and monarchists," the Guard said in a statement on its Sepah news website.
The IRGC statement was issued after Iran's parliament held a closed-door session on January 7 to discuss the anti-government protests that have rocked the country for more than a week. The parliamentary session was called by a reformist faction of lawmakers who questioned security and intelligence officials about the causes of the unrest — which Iran's government has also blamed on foreigners.
Residents contacted by Reuters in various cities have said the protests had subsided after the government intensified a crackdown by dispatching Revolutionary Guards forces to several provinces. Late on Saturday, videos on social media showed a heavy police presence in cities, including Khorramabad in southwestern Iran where on Wednesday evening social media posts showed protesters throwing stones at riot police.
As protests have ebbed, the government has lifted restrictions it imposed on Instagram, one of the social media tools used to mobilize protesters. But access to a more widely used messaging app, Telegram, was still blocked, suggesting authorities remained uneasy about the possibility of further protests.
Meanwhile, thousands of government supporters staged rallies for the fifth day in a backlash against the biggest anti-government protests since widespread unrest in 2009 over alleged election fraud. State television showed live pictures of rallies in several cities, including central Shahr-e Kord where hundreds, many clutching umbrellas, had gathered despite heavy snowfall.
More than a week of unrest has seen 22 people die and over 1,000 people arrested, according to Iranian officials. Unrest spread to more than 80 cities and rural towns as thousands of young and working-class Iranians voiced anger at graft, unemployment and a deepening gap between rich and poor.
Iran has several parallel security bodies and residents say arrests are often not immediately announced. Videos that appeared on social media in recent days showed relatives of detainees gathering outside prisons seeking information about the fate of their loved ones.
The Revolutionary Guard and its affiliated Basij militia suppressed unrest in 2009, in which dozens of pro-reform Iranians were killed. In a statement on Sunday, Iran's Revolutionary Guard Corps appreciated the people, the police, intelligence forces, and Basij for defeating the long list of the enemies.
In its statement, the Islamic Revolutionary Guards Corps (IRGC) express their appreciation to the people, and tens of thousands of Basij members, ministry of intelligence, and the country's police force for creating an epic in defeating the long list of enemies' including the U.S., Britain, Zionist Regime, Saudi regime, the MKO, and Monarchy supporters. The statement adds "this great epic shows that the glory of the Iranian nation is eternal and its enemies cannot make them give up its ambitions."
At the end of their statement, the IRGC forces hope that God would bestow a long life full of health and happiness to Iran's Leader and the great nation of Iran.
Iran's intelligence minister said the anti-revolutionary and terrorist groups are going to get a crushing response from the Islamic Republic.
In comments a few days after nationwide rallies against the recent unrest in some Iranian cities, Intelligence Minister Mahmoud Alawi said his forces will soon give a "crushing response" to the terrorist and anti-Iran groups in the region. He also assured the nation that the Intelligence Ministry forces would never allow the enemies to upset security in the country and will keep foiling their plots.