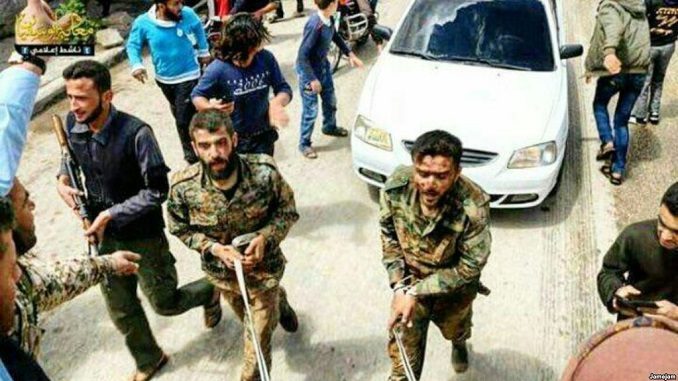 Twelve Iranian military personnel were killed in an alleged Israeli air strike on an Iranian base in Syria Friday night, Arabic media reported Saturday.  The newspaper Arab Today, directly quoting Iranian media, revealed the names of the dozen members of the Iranian forces that were said to have been killed in the Israeli attack on the base near the Syrian capital of Damascus, i24News reports.
According to reports on Lebanon's Al-Mustaqbal TV and the Saudi-owned Al-Arabiya network, accounts on the Telegram messaging app tied to Iran's Revolutionary Guard Corps have been reporting 12 fatalities, while also reporting the names of those killed.
Syria's state-run news agency reported Israel fired several missiles at a military post near the Syrian capital of Damascus early on Saturday, causing damage. SANA, the state news agency, claimed Syrian air defenses shot down two of the Israeli missiles.
Arab media reports said Israel fired missiles at a military base Iran has been building near the Syrian city of al-Qiswa, reportedly destroying an arms depot.
Some media outlets affiliated with the Assad regime and Lebanese terrorist group Hezbollah initially reported that Israeli warplanes targeted an ammunition bunker belonging to the Syrian Army. But other media outlets reported that the target was a military base that Iran is building in the area, 50 kilometers from the Israeli border, and that loud explosions were heard after the attack.
There was no immediate official Israeli comment. Israel does not, as a rule, comment on reported strikes in Syria.
The alleged Israeli attack came three weeks after the BBC reported that Iran was building a permanent military base in Syria just south of Damascus. The British broadcaster commissioned a series of satellite pictures that showed widespread construction at the site.
The Revolutionary Guards, Iran's most powerful military force which also oversees an economic empire worth billions of dollars, has been fighting against Islamic State and in support of Syrian president Bashar al-Assad and the central government in Baghdad for several years.
More than a thousand members of the Guards, including senior commanders, have been killed in Syria and Iraq. The Revolutionary Guards initially kept quiet about their military role in both Syria and Iraq but have become more outspoken about it as casualties have mounted. They frame their engagement as an existential struggle against the Sunni Muslim fighters of Islamic State, who see Shi'ites, the majority of Iran's population, as apostates.
Israel has long warned that Iran is trying to establish a permanent presence in Syria as part of its efforts to control a land corridor from Iran through to the Mediterranean Sea as it attempts to expand its influence across the Middle East.
Netanyahu has said often that Israel will not allow Iran to establish a permanent presence in Syria, and was reported last week to have sent a warning to this effect via a third party to Syrian President Bashar al-Assad.