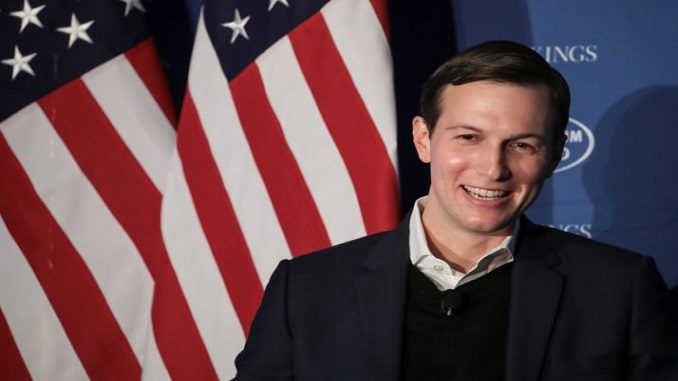 U.S. President Donald Trump's push for a peace agreement between Israel and the Palestinians stems from a belief that his broader goals of stopping Iranian aggression and Islamist extremism will not be possible without it, presidential adviser Jared Kushner said in a rare public appearance Sunday, The Washington Post reports.
"If we're going to try to create more stability in the region as a whole, you have to solve this issue," Kushner told Middle East experts gathered at the Brookings Institution's Saban Forum. Trump, he said, "sees this as something that has to be solved."
But nearly a year after Trump named Kushner, his son-in-law, and senior White House aide, as the point person for what he called "the ultimate deal," there has been no public indication of where the initiative is heading.
"We do think it's achievable," Kushner said of an Israeli-Palestinian peace deal.
After Kushner explained that the Iranians, with "their nuclear ambitions and their expansive regional mischief," along with the threat from the Islamic State and extremist ideology could best be addressed after the distraction of the Israeli-Palestinian issue was resolved, Haim Saban, the Israeli American media billionaire who heads the forum, responded with the question many experts on the region have posed.
"I understand that. But to achieve that the team has in it an entrepreneurial real estate lawyer, a bankruptcy lawyer — I don't know how you've lasted eight months in this lineup. . . . It's impressive that it's still going. There's not a Mideast ­'macher' in this group," Saban said. Macher is a Yiddish word for a mover and shaker.
Kushner brushed off publicly expressed Israeli and Palestinian concerns, and insistence that there is no wiggle room on what he acknowledged were the "elephants" among the issues that have dogged previous efforts, including an establishment of a Palestinian state and its borders, Israeli settlements, and Jerusalem.
Overseeing the Middle East peace process over the past year has been one of Kushner's most ambitious portfolios — and one he has purposefully conducted quietly, without announcing any timeline for a deal, and even making secret, unannounced trips to countries in the region such as Saudi Arabia.
That President Donald Trump shouldn't be underestimated because he proved the skeptics wrong during the 2016 race was perhaps the most concrete reason Kushner articulated for his confidence in the Middle East peace project. He added that he saw a peace deal as key to larger regional conflicts, such as Iran's growing nuclear ambitions and the threat of Islamic State militants, and he said that "Israel is a much more natural ally today than they were 20 years ago because of Iran and ISIS extremism."
"If we're going to try and create more stability in the region as a whole, you have to solve this issue," he said.
On Sunday, Kushner also insisted no final decision has been made on whether to recognize Jerusalem as the official capital of Israel and home of the U.S. embassy — a change in status that would mark the fulfillment of a Trump campaign promise.
"He's still looking at a lot of different facts and then when he makes his decision," Kushner said of the president, "he'll be the one to want to tell you, not me."
U.S. officials said last week that Trump is poised to recognize Jerusalem as Israel's capital in a move that would upend decades of U.S. policy but also put off once again moving the embassy from Tel Aviv. The officials said Trump is expected to make his decision known in a speech on Wednesday.
The highly charged declaration risks inflaming tensions across the Middle East, and U.S. embassies and consulates around the region have been warned to expect protests. But it would also offset disappointment from Trump supporters from deferring once again his campaign promise to move the U.S. Embassy to Jerusalem.