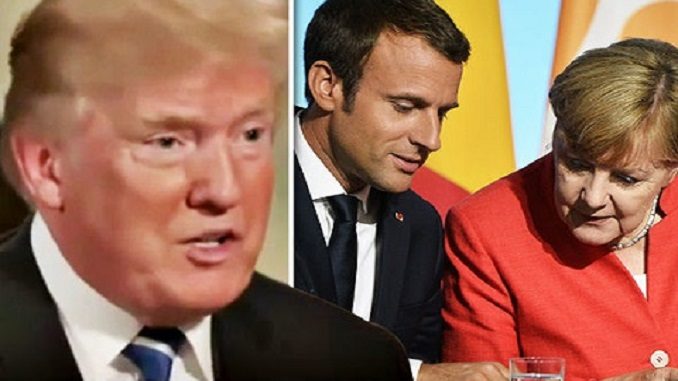 The U.S. President Donald Trump poked fun after accusing the European Union of only supporting the Iran nuclear deal to "make money", Fox News reports.
Trump said he has "allowed" Emmanuel Macron and Angela Merkel to keep benefiting financially because the U.S. does not need support to put pressure on Tehran. Speaking on Fox News, he said:
"Honestly, I told them. They're friends of mine. They really are, I get along with all of them. Whether it's Emmanuel or whether it's Angela, I really like those people. I told them, just keep making money. Don't worry about it, we don't need you on this, you just keep making money."
When asked about Europe's reluctance to back his Iranian sanctions, he claimed it was for economic purposes.
"When Iran buys things from Germany and from France it allows them to earn billions of dollars. When the Iranians buy those things, it's a little harder for those countries to do something. Would the EU do it if I really was insistent? I believe they would," he added.
His comments come amid tensions between Iran and the U.S. In mid-October, Trump said he would not certify that Iran was complying with the landmark nuclear deal it reached in 2015.
The deal was signed by the Obama administration and five other world powers, Russia, France, Germany, China and the UK.
Trump said the Congress has 60 days to decide whether the U.S. should reinstate sanctions against Tehran and warned that the treaty may be terminated if "we are not able to reach a solution working with Congress and our allies."