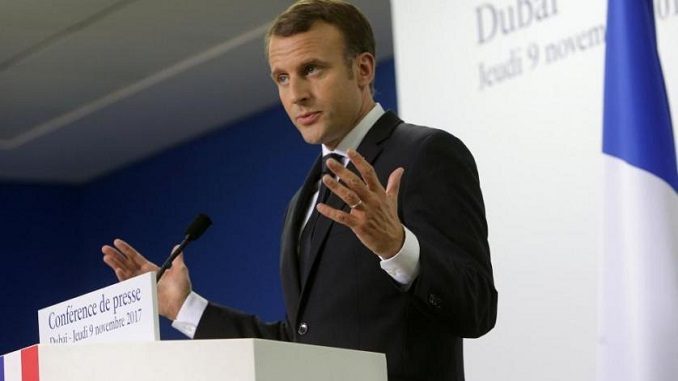 French President Emmanuel Macron hinted at the possibility of imposing sanctions on Iran over its ballistic missile program, while stressing the need to add to the Nuclear Deal two clauses pertaining to Tehran's ballistic activity and discussions on curbing its control over the region, Asharq al Awsat reports.
On Thursday, Macron suggested amending the JCPOA, despite eight International Atomic Energy Agency (IAEA) reports which have confirmed Iran's full compliance with the agreement.
"It is possible to impose sanctions on Iran's ballistic missiles. I will try to convince all those who want to reconsider the 2015 agreement, our American partners and the Saudi neighbor," he said, noting that the Nuclear Deal must be maintained by adding "two pillars: negotiations on Iran's ballistic activity with sanctions if necessary, and a strategy to limit Iranian hegemony in the entire region," Macron said in Dubai.
Later in the day, Macron made a surprise visit to Saudi Arabia, where he reiterated that he was "very concerned" by Iran's ballistic missile program.
"There are extremely strong concerns about Iran. There are negotiations we need to start on Iran's ballistic missiles," he said in Riyadh.
Kaveh Afrasiabi, a former adviser to Iran's nuclear negotiating team, seems surprised that Macron is trying to rewrite the nuclear deal considering that Paris "did not play a productive role" in the 2015 nuclear negotiations.
"There was an element of French [malice] that lengthened the process," he noted. Macron instead believes that amending the agreement is vital to maintain the balance of power in the region and to avert the possibility of Iran becoming a new nuclear state. On the other side, he warned that U.S. pressure to renegotiate the Iran nuclear deal could push Tehran into deciding to build its own nuclear weapons.
"If you want to stop any relation with Iran regarding nuclear activity, you will create a new North Korea. If you stop the 2015 agreement, what's your other option? To launch war? To attack Iran? I think it would be crazy in the region," Macron told the Time magazine in an interview published Thursday. But U.S. President Donald Trump has labelled the agreement too lenient on Iran and accuses the country of violating it, calling for a renegotiation. If the U.S. abrogates the JPCOA, Macron said, it will backfire.
"Because it's exactly what we experienced with North Korea. And suddenly you will wake up in ten to twelve years time without any control, but (Iran) having the nuclear weapon."
Macron said he wants Washington to join an effort to force Iran to stop supplying ballistic missiles to its allies in the region, pointing to the missile launched at Saudi Arabia last week by Yemen's Houthi rebels.
"So we should negotiate a new series of criteria and a new treaty with Iran to stop their ballistic activities in the region."
The Joint Comprehensive Plan of Action covers Iran's nuclear program, but not its increasingly-sophisticated ballistic missile arsenal. That is what concerns its neighbors, the U.S. and now, Macron. The issue of Iran's missile program has been in the crosshairs of the American administration ever since President Donald Trump took office. The issue was exacerbated further this week when Saudi Arabia lashed out at Iran for supplying missile technology to countries in the region, and after Houthi rebels in Yemen fired a ballistic missile towards Riyadh last week. While Tehran denies its missile development breaches any agreements as the weapons are not designed to carry a nuclear warhead, Macron expressed hope that Washington will join in efforts to force Iran to stop its ballistic missile program.
"We need to better frame ballistic activities of Iran. So we should negotiate a new series of criteria and a new treaty with Iran to stop their ballistic activities in the region," he told the Times.