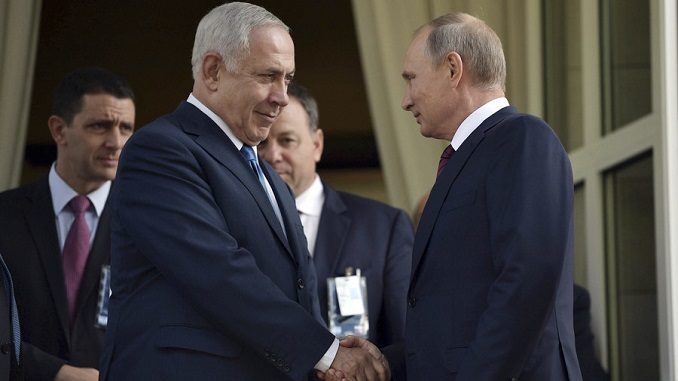 Israeli Prime Minister Benjamin Netanyahu is headed to Moscow on Monday for a whirlwind trip, during which he is set to meet Russian President Vladimir Putin and visit an exhibition on the Holocaust, Times of Israel reports. On the agenda of his meeting with Putin will be Iran's attempts to entrench itself militarily in Syria, since Moscow is one of the key allies of both Damascus and Tehran.
Netanyahu said he and Putin will also be talking about Iranian inroads in Lebanon, Israel's northern neighbor. He said Iran was trying "to turn Lebanon into one big missile site, a site for manufacturing precision missiles against the State of Israel. This is something we are not prepared to tolerate." Other issues likely to come up in their talks will be the future of the Iranian nuclear deal, of which Russia is one of the signatories, and the Israeli-Palestinian conflict.
On Monday morning, Netanyahu will fly on a small plane to the Russian capital, and return to Israel several hours later. He will be accompanied by National Security Council head Meir Ben Shabbat and Military Intelligence chief Major General Herzl Halevi, among other officials.
Netanyahu's trip to Moscow comes on the heels of a weeklong trip to India earlier this month and a three-day stay in Switzerland to attend the World Economic Forum in Davos last week. In February, he is scheduled to participate in the Munich Security Conference, and the following month in the AIPAC Policy Conference in Washington, DC.
The Israeli and Russian militaries have a so-called deconfliction mechanism to ensure the two armies do not clash over Syrian skies. In recent months, top Israeli security advisers have met with their Russian counterparts regularly to maintain cooperation in this regard.
"Look, when I saw that Russia's placing military forces, air power, some ground power, and anti-aircraft weapons in Syria, I decided that the wisest thing to do was to go and speak to Mr. Putin directly. And I said, look, you have your interests in Syria, and we have our interest, which is not to be attacked by Iran and its proxies from the soil of Syria either directly or through the provision of offensive weapons, very deadly weapons that are filtered through Syria into Lebanon to a warfront that Iran is building in Lebanon," Netanyahu told foreign reporters at a reception earlier this month.
Israel will continue to take action against any threats emanating from Syria", he went on.
"And the most important thing I think is to make sure that we understand each other and that we don't shoot down each other's planes. And we decided to do what is called in this awful jargon deconfliction, which means not shooting each other. And we established a mechanism to do that, and that mechanism holds secure."
Both Moscow and Jerusalem respect each others' "special interests," Netanyahu went on. "We want to make sure that this coordination or this lack of confrontation continues."
The two leaders last spoke when Netanyahu phoned Putin on December 31 and extended his greetings to the Russian people on the occasion of the civil new year.
"Putin noted that Russian-Israeli relations are of a friendly and constructive nature. The Russian president stressed that he relies on further consolidating bilateral cooperation in politics, trade, the economy, culture and other areas, as well as partnership in ensuring stability and security in the Middle East," the Kremlin said at the time.
Netanyahu and Putin last met in person in August 2017 in Sochi, on the Black Sea.
"Most of the discussion dealt with Iran's attempt to establish a foothold in Syria in the places where ISIS was defeated and is leaving. The victory over ISIS is welcome. Iran's entry is unwelcome, endangering us, and in my opinion, endangering the region and the world. I spoke to President Putin very clearly about our positions on this matter and the fact that this is unacceptable to us. I can say about previous meetings with President Putin that any such conversation served the security of Israel and Israeli interests and I believe Russia's interests as well," Netanyahu said at the time following their three-hour conversation.