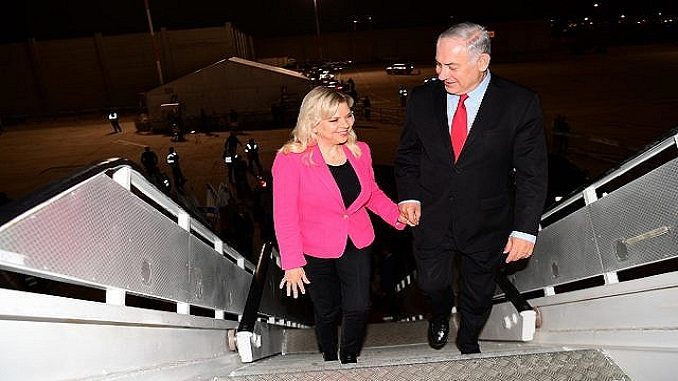 Israeli Prime Minister Benjamin Netanyahu left Israel Thursday night with plans to force security officials and other world leaders to face facts about Iran's involvement in destabilizing the region – and specifically, its direct involvement in causing conflicts between Israel and her neighbors –  at the Munich Security Conference in Germany, Jewish Press reports.
While at the gathering, he said he would "present proof of Iran's involvement in the recent events in the north." The prime minister said he will present proof of Iran's involvement in last weekend's clashes, during which Israel downed a drone said to be sent by Tehran and struck multiple Iranian targets in Syria. An Israeli F-16 was downed by Syrian anti-aircraft fire in the course of the Israeli retaliatory strikes and crashed in Israel. The two pilots ejected.
Netanyahu on Thursday said Israel will not accept any limitation on its activities in Syria and will continue to defend its citizens, ahead of a visit to the Munich Security Conference, which he called "the most important security convention in the world."
"I will reiterate our determination to defend ourselves by ourselves – without any restrictions – against any threat," he said at Ben Gurion Airport before boarding his plane, in an apparent reference to concerns that Russia may curb Israel's freedom of operation in Syria.
Netanyahu is scheduled to meet with the United Nations secretary general Antonio Guterres and with the chairman of the board of management of BMW, during the two-day conference. His office said he will likely also meet with other ministers and senior figures on the sidelines of the conference, set to take place from February 16-18.
The prime minister is due to speak on Sunday morning.
British Prime Minister Theresa May, U.S. Secretary of Defense Jim Mattis, and Iranian Foreign Minister Mohammad Javad Zarif are also set to attend this weekend's conference.