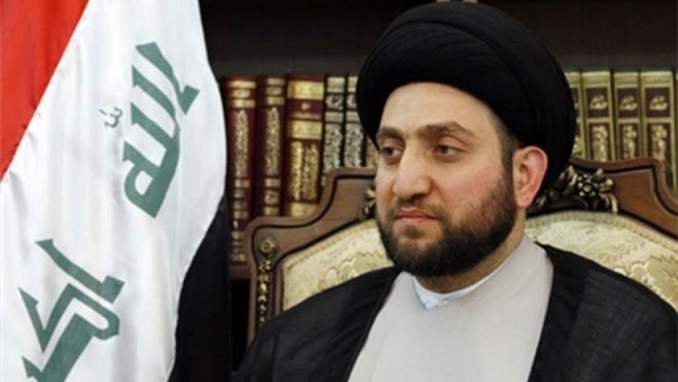 The Shi'ite political scene is in the middle of a significant shift ahead of the parliamentary elections next year that could affect Iran's influence in the country. The rising tensions between pro-Tehran Shi'ite alliances have been worrying enough to prompt Iranian supreme leader Ayatollah Ali Khamenei to send an envoy to Iraq last week on a mission to unite the disputing parties, The National reports.
The extent of the differences became clear in July when Ammar Al Hakim stepped down from his position as leader of the Islamic Supreme Council of Iraq, the dominant party in Iraq's ruling Shi'ite alliance, and founded the National Wisdom Movement, also known as Al Hikmah.
Khamenei's envoy, Mahmoud Shahroudi, held talks with Al Hakim and Iraqi prime minister Haider Al Abadi but did not manage to meet Iraq's two most influential Shi'ite clerics, Moqtada Al Sadr and Ayatollah Ali Al Sistani.
Although there has been no explanation of why Shahroudi failed to meet the two clerics, both Al Sadr and Al Sistani are seen as opponents of Iranian influence in Iraq. Al Sadr made surprise visits last month to Saudi Arabia and the UAE, predominantly Sunni nations that are also wary of Tehran's attempts to expand its influence in the region.
There has been speculation that some of Iraq's Shiite blocs are looking to pull away from Iran's influence, and the latest developments could be seen as an attempt to form an Iraqi Shiite movement open to Sunni Arab countries.
Michael Rubin, a resident scholar at the Washington-based American Enterprise Institute, said Shahroudi, the chairman of Iran's Expediency Council, has long been thought of as Khamenei's puppet in the holy city of Najaf where Al Sistani is based, and "hopelessly corrupted by politics".
"So, it's not surprising that Al Sistani refused to see him," Rubin said. "All the more so since Iran is pushing Shahroudi as Al Sistani's eventual successor, and so Iran would have painted any meeting as an endorsement."
Renad Mansour, an academy fellow at the British think tank Chatham House, said the move was not surprising as "there has always been an internal Shiite conflict in Iraq over the role of Iran".
"Moqtada Al Sadr and Ali Al Sistani have been most critical of Iran's influence in the country," Mansour said.
Al Sadr, who has denounced Iran's influence in Iraq, commands a large following in Iraq's urban areas and is a critic of Al Abadi's government. He has also called for the dissolution of the Hashed Al Shaabi, a coalition of militias dominated by Iranian-backed Shiite fighters which have gained strength in Iraq after the country's army collapsed confronting ISIL in 2014.
Rubin said Tehran had been a "corrupting influence among some of Iraq's Shiite clerics", although "many others strike for theological independence and resent Iran".
"While America always underestimates the psychological importance of occupation, Iranians consistently underestimate the importance of Iraqi nationalism among Iraqi Shiites. This is what Al Sadr is now pandering to," he added.
Michael Knights, Iraq analyst at the Washington Institute for Near East Policy, said it was natural for Tehran to have some influence over Iraq as a neighboring country and would be extremely interested in the nature of the Shiite religious leadership in Najaf.
He said the recent visits of Al Sadr and Al Abadi to Saudi Arabia and Al Sistani's decision not to meet with Shahroudi suggested "further backing for a neutral Iraqi foreign policy that will allow Iraq to finally break free from regional wars for the first time since 1980".
However, such a course is likely to meet with opposition from Tehran, according to Ruben.
"Just as in Lebanon, Syria, Yemen, and Bahrain, Iran is not willing to give up in Iraq no matter what the citizens of that country, let alone the outside world, might think," Rubin said.