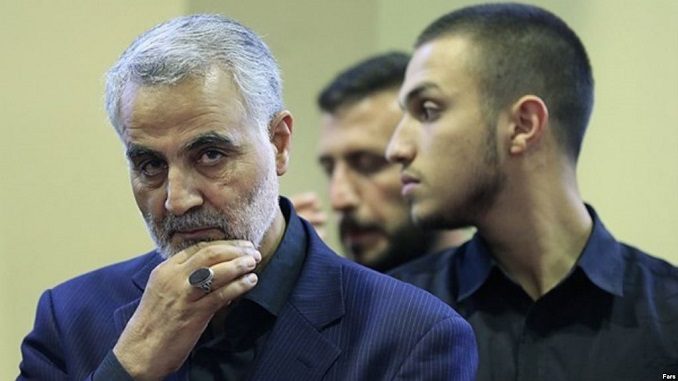 Qassem Soleimani, the commander of the Islamic Revolutionary Guards Corps (IRGC) Quds (Qods)Force, has called for the "eradication" of Israel in retaliation for the killing of a Hezbollah commander ten years ago, Radio Farda reports. Speaking in Tehran at a ceremony commemorating the 39th anniversary of the Islamic Revolution February 14, Soleimani said:
"The eradication of Israel would be the best revenge for the killing of Imad Mughniyeh."
Mughniyeh, also known as Abu Rezvan, was a commander with Lebanon's Shia militant group Hezbollah who was killed in a bomb blast February 12, 2008, during one of his frequent visits to Damascus, Syria. Hezbollah and Iran have always attributed the assassination to Israel's intelligence service, the Mossad.
"The enemy should know that revenge for Mughniyeh's blood will not be taken by firing a missile or killing just one person. The revenge for his blood is the eradication of Israel. The enemy knows this is going to happen most certainly. This is what God has promised and it will definitely happen," Soleimani said at the ceremony, according to IRGC-linked news agency Fars.
Soleimani described Israel as "a child-murdering regime that should be uprooted," adding that "today, there is no element of stability in this regime as Gaza and Lebanon create constant worries for Israel." Mughniyeh was considered a terrorist by the U.S. and Israel and was a top priority for capture by both countries.
Iran's leaders have repeatedly called for the destruction of Israel.Three years ago, Ayatollah Ali Khamenei said Israel would not last for another 25 years. According to the Fars report, Soleimani quoted Khamenei as saying that Mughniyeh was like a son to Ayatollah Khomeini, the founder of the Islamic Republic.
"Mughniyeh was the man who linked up Palestinian groups with 'the center of resistance' by bringing former Palestinian leader Yasser Arafat to Iran for the first time," Soleimani said.
At the time of Arafat's visit to Iran, however, Mughniyeh was a 17-year-old boy with no known influence in Lebanon or among Palestinians.
"Mughniyeh empowered Hamas and turned Gaza into an invincible fortress," Soleimani said, adding that "one can see Mughniyeh's fingerprint on any missile fired at Israel from Palestine."
Soleimani also spoke about his own personal ties with Mughniyeh during the war in Lebanon in 2006, and called Hezbollah leader Hassan Nasrallah "an ayatollah and a sign of God's presence on Earth."
Also present at the commemoration ceremony were several Hezbollah members, Ahmed Jibril, the leader of the Popular Front for the Liberation of Palestine, Ayatollah Khamenei's adviser Ali Akbar Velayati, and Mohammad Hussein Abutorabi, a newly appointed leader of Friday prayers in Tehran.
The U.S., Israel, Saudi Arabia, several Persian Gulf states, and other countries have listed Hezbollah as a terrorist group, with the U.S. and Israel stressing that Iran is Hezbollah's main backer. Meanwhile, U.S. Secretary of State Rex Tillerson said during a February 15 meeting with Lebanon's leaders in Beirut that Hezbollah's increasing militant activity threatens Lebanon's security.