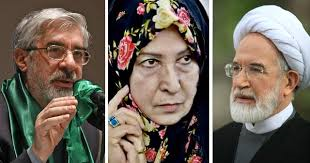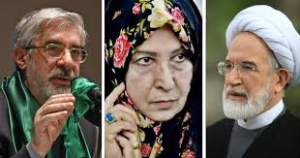 As President Hassan Rouhani is readying for reelection next May, he has come under growing pressure from his reformist supporters to improve the human rights situation in the country.
One significant issue of concern for many in the reformist camp is that prominent opposition leaders Mir Hossein Mousavi (and his wife Zahra Rahnavard) and Mehdi Karroubi continue to be under house arrest without charge or trial since 2011.
Although acts of political repression and rights violation in Iran are largely committed by the country's conservative judiciary and repressive security and intelligence services, Rouhani's silence and passivity with regard to rights abuses has irked his reformist backers.
On November 3, leaders of the reformist Hope Faction at the parliament held a meeting with Rouhani and urged him to do more to end the house arrests. They called on the president to pay more attention to political issues at home.  And on November 9, Ali Motahari, deputy head of Iran's parliament, also criticized Rouhani for dealing with the house arrest issue "in a passive fashion." He added: "Because the view of the Supreme Leader is that the house arrests should continue, most officials do not deal with this issue." Previously, Mousavi's daughters had also criticized Rouhani for not having done enough to release their parents.
But some reformists caution that any public confrontation with the president would only strengthen and benefit the hardliners.
"It is correct that I criticize Mr. Rouhani with regard to the arrests, but at the same time, I explain to my audiences at universities that the arrests are not within Mr. Rouhani's authority. The reason for my criticism of Mr. Rouhani is that he should demonstrate he is concerned about the arrests and is making an effort in this regard," Zadeq Zibakalam, a Tehran University lecturer, wrote in reformist newspaper Etemad. He however urged reformists to keep disagreements with Rouhani "within the family" and "behind the closed doors," and urged them to wholeheartedly vote for his reelection next May.