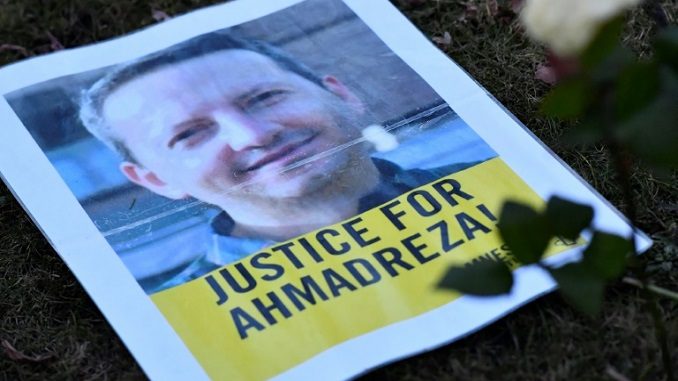 A request has been lodged in Iran's top court to review the death sentence of a man accused of being an Israeli spy, his lawyer confirmed on Wednesday, adding the case was flawed.
The man, Ahmadreza Djalali, an emergency medicine specialist living in Sweden, was arrested in April 2016 while traveling to Iran. Several months later, he was found guilty of sharing classified information about Iranian nuclear scientists to Israel's Mossad intelligence agency, The Local reports.
Lawyer Zeinab Taheri said "we have asked for the verdict to be re-examined" because of what she described as "many flaws in the case." She added that the request was filed to the Iranian Supreme Court about 10 days ago.
"We are hopeful that the verdict will be overturned," Taheri also noted, adding that she was concerned about the health of her client.
"He is not at all in good physical condition, even though he is eating well he is getting weaker and losing weight each day."
The death sentence against Djalali has been criticized by human rights group Amnesty International, which also condemned Iran's Supreme Court December decision to uphold the verdict as running "roughshod over the rule of law."
Ahmadreza Djalali, a medical doctor, and lecturer at the Karolinska Institute, a Stockholm medical university, was accused of providing information to Israel to help it assassinate several senior nuclear scientists. Djalali was on a business trip to Iran when he was arrested and sent to Evin prison. He was held in solitary confinement for three months and was tortured, Amnesty said. It added that Djalali wrote a letter inside a prison in August stating he was being held for refusing to spy for Iran.
Sweden condemned the sentence in October and said it had raised the matter with Iranian envoys. Seventy-five Nobel prize laureates have petitioned Iranian authorities to release Djalali so he could "continue his scholarly work for the benefit of mankind."
The case has also caused concern in Belgium, where the academic was schooled, and the European Union has said it is following it very closely.