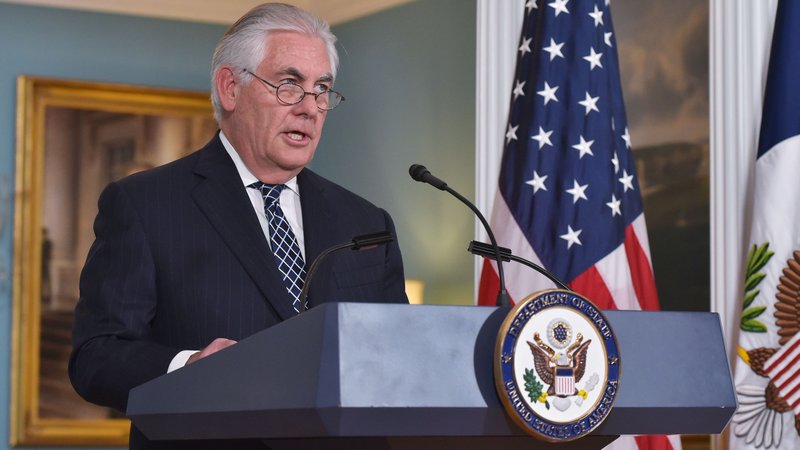 The U.S. must consider the full threat it says Iran poses to the Middle East when formulating its new policy toward Tehran, U.S. Secretary of State Rex Tillerson said, adding that Iran had breached the spirit of a 2015 nuclear deal.
Tillerson made the comments during a visit to Britain to see Prime Minister Theresa May and Foreign Secretary Boris Johnson. The trip was billed as focusing on the relief effort after Hurricane Irma, how to respond to North Korea's nuclear test, and resolving the political deadlock in Libya.
But he was outspoken in his criticism of Iran when asked whether he believed it was meeting the obligations of a 2015 international nuclear agreement designed to curb an Iranian nuclear program in return for lifting most Western sanctions.
Tillerson cited the preface of the nuclear deal, which calls on Iran to contribute positively to regional security.
"In our view, Iran is clearly in default of these expectations … through their actions to prop up the Assad regime (in Syria), to engage in malicious activities in the region, including cyber activities, aggressively developing ballistic missiles," he told a news conference.
"We have to consider the totality of Iran's activities and not let our view be defined solely by the nuclear agreement."
Tillerson's remarks came as the State Department said the U.S. had extended some sanctions relief for Iran under the 2015 nuclear deal, but no decision had been made on whether to preserve the deal itself.
At the same time, U.S. President Donald Trump said that Iran is violating "the spirit" of the nuclear deal, and the US Treasury announced new sanctions on about a dozen entities or individuals of Iranian and other nationalities for activities related to Iran. "We are not going to stand for what they are doing," Trump told reporters on Air Force One.
But he stopped short of saying whether he will refuse to recertify the agreement.
State Department spokeswoman Heather Nauert said the administration approved waivers of some sanctions to "maintain some flexibility" as it develops a policy to address the range of Iranian behavior.
"Waiving some of those sanctions should not be seen as an indication of President Trump or his administration's position on the (Iran nuclear deal), nor is the waiver giving the Iranian regime a pass on its broad range of malign behavior," she said at a news briefing.