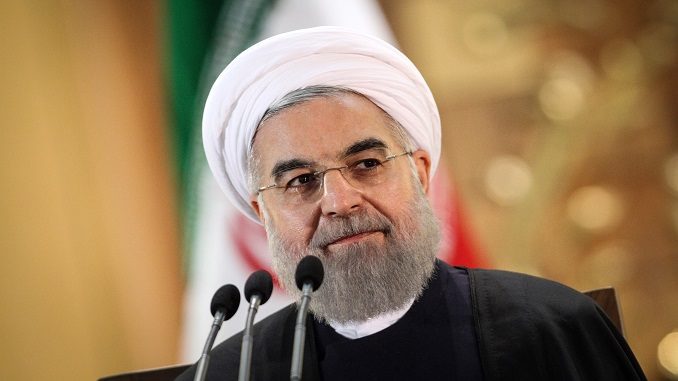 Back in September, the U.S. administration asked French President Emmanuel Macron to inquire whether Iranian President Hassan Rouhani was interested in speaking directly with his U.S. counterpart Donald Trump regarding the tense relations between the two sides. However, Tehran's response was an unequivocal no, The Washington Post reports.
The Iranians "didn't believe that the French were serious" and thought it was some kind of trick, a senior administration official said. In his own U.N. speech the next day, Rouhani denounced the "ignorant" rhetoric of "rogue newcomers to the world of politics," The Post adds.
Although Trump has always boasted his face-to-face negotiations skills, there seems to be little room for negotiation on the issues that divide the United States and Iran, The Post writes. Trump has said he wants to rewrite or "terminate" the Iran nuclear agreement, and has demanded that Iran cease its ballistic missile development, which Iran says it is legally entitled to carry out.
Before Tillerson's request, Trump had already thought of the idea of using France as a negotiator. "You guys have good relations" with Iran, Trump told Macron, according to a senior administration official. "Could you use your relations" to ask if Tehran is willing, should "the Americans want to talk?" the official said Trump asked.
"Macron said sure, he would try to do that," the official said. Asked why Trump wanted to meet with Rouhani, the official said it was "in order to say, 'Here's all the mean stuff you do in the world, and we want you to stop… If not, you should know we're working on a strategy to get you to confront all of this.'" The Post writes.
Word of the proposed Trump-Rouhani meeting first circulated Sunday, when Iranian Foreign Ministry spokesman Bahram Qassemi told reporters in Tehran that "indeed, a request was made by the American side, but it was not accepted by President Rouhani."
Tillerson, the senior official said, also had raised the possibility of "talks with other officials at various levels" when he spoke directly with Iranian Foreign Minister Mohammad Javad Zarif on September 20 during a multilateral meeting at the United Nations, the senior official said.
Highlighting Iranian suspicions of U.S. motives, Iran's supreme leader, Ayatollah Ali Khamenei wrote in a tweet to Iranians on Wednesday, "My dear children, do not forget, in the important, conducive path toward ideals, your major enemy is the U.S." The Post adds.