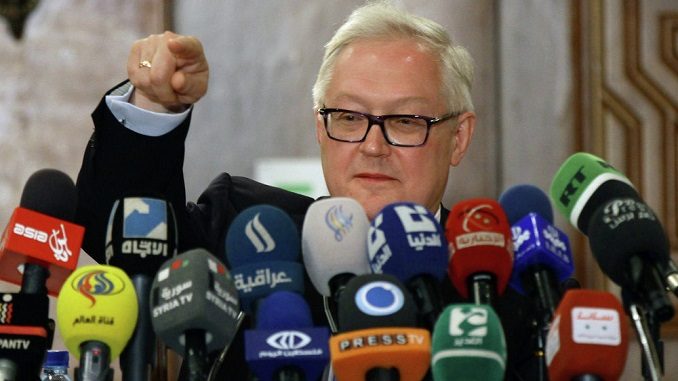 Russia is confident that Iran is fulfilling all its obligations under a multilateral agreement on its nuclear program and will not take part in any talks on amending the deal. Russian Deputy Foreign Minister Sergei Ryabkov made the remarks Saturday at an international nuclear weapons non-proliferation conference in Moscow, Tehran Times reported.
"Russia is not ready to participate in any talks on amending the Joint Comprehensive Plan of Action (JCPOA)," Ryabkov was quoted as saying.
The deal is delicately balanced and any change could lay waste the whole agreement, he warned.
"Any shift of this balance will cause unavoidable collapse of the entire mechanism, and it would be impossible to assemble it in some new form… It is unrealistic to adjust the agreement, as all the issues, which required settlement, were solved this or that way. We have no doubts, Iran fulfills all terms of the agreements," he noted.
Ryabkov added that almost two years of the Joint Comprehensive Plan have demonstrated the agreement works effectively and copes fully with the outlined tasks.
"There is no alternative to the Plan of Action. We do not see reasons or opportunities to review or change it."
The JCPOA was reached between Iran, the five permanent members of the United Nations Security Council — Britain, China, France, Russia and the United States – Germany and the European Union in July 2015. Under the deal, Iran agreed to put limits on its program in exchange for termination of economic and financial sanctions.
However, on October 13, U.S. President Donald Trump called for decertifying the agreement, alleging Iran had committed "multiple violations."
Though the decertification would not mean Washington exiting the Iran nuclear deal at the moment, it would open a 60-day window in which the U.S. Congress could reimpose nuclear-related sanctions on Iran.
Speaking to TASS news agency on Saturday, Ryabkov also said that the International Atomic Energy Agency is not authorized to carry out inspections of Iran's military sites.
"I would like to say absolutely clear and directly that acquiring some false topicality the theme of the IAEA work on Section T (about Iran's military facilities ) of the Joint Comprehensive Plan of Action (JCPOA) over the Iran nuclear program has no topicality for us although it is a talking point now," he said.
In particular, Moscow says that the IAEA "has not been authorized to carry out such inspections and cannot be tasked because Section T highlights the issues out of the agency's competence," Ryabkov said.
"Nevertheless, we can hear another thing. As in the issue of the Iran missile program, some of our counterparts prefer to call black white and vice versa. We cannot get them to understand this evident logic and obvious truth," the high-ranking diplomat said.