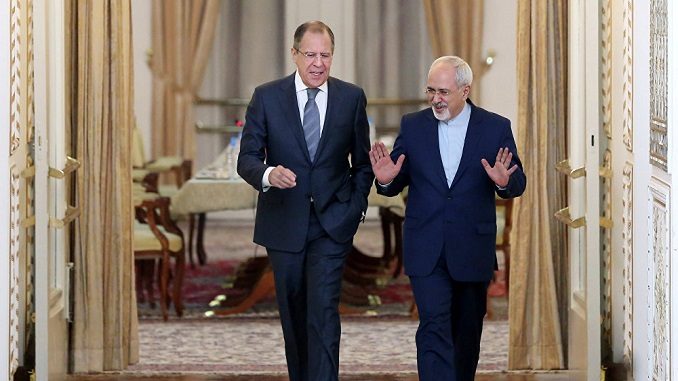 Russian and Iranian Foreign Ministers Sergey Lavrov and Mohammad Javad Zarif have reiterated in a telephone conversation their commitment to the accord on Tehran's nuclear program, the Russian Foreign Ministry reported on Monday.
"[The two ministers] stressed their mutual commitment to fully implementing the Joint Comprehensive Plan of Action on Iran's nuclear program. Tehran scrupulously honors its commitments under it, as confirmed by the IAEA," the Russian Foreign Ministry noted. "They also continued to exchange views on the current situation in the Middle East with an emphasis on searching for ways to unblock crisis situations."
The conversation was initiated by the Iranian side.
On July 14, 2015, Iran and the P5+1 (five permanent members of the UN Security Council plus Germany) reached an agreement on Tehran's nuclear program. The plan envisages lifting the sanctions imposed on Iran by the UN and the European Union over its nuclear activities in return for Tehran's pledge to scale back its nuclear program and place it under international control. On January 16, 2016, it was announced that the implementation of the deal had begun.
During his election campaign and after assuming office, U.S. President Donald Trump criticized the document on numerous occasions arguing that it gives unilateral advantages to the Iranian regime. On October 13, 2017, Trump unveiled a new, tougher strategy for Iran. According to it, the United States will counter Iran's "destabilizing influence" and urge the international community to pool efforts to exert pressure on the Islamic Revolutionary Guard Corps (IRGC). Besides, the U.S. leader refused to certify Tehran's compliance with the agreement on its nuclear program and promised to seek to amend it.
Iranian regime constantly claims to be in compliance with the accord, although some sources say that the regime is still pursuing its nuclear ambitions but now more covertly. Some sources say there were several violations of the nuclear accord by Iran, and that there is evidence of this misbehavior. Nikki Halley has presented what appears to be pieces of a rocket that prove that Iran is supplying Yemen's Houthi militias with weapons of this kind.