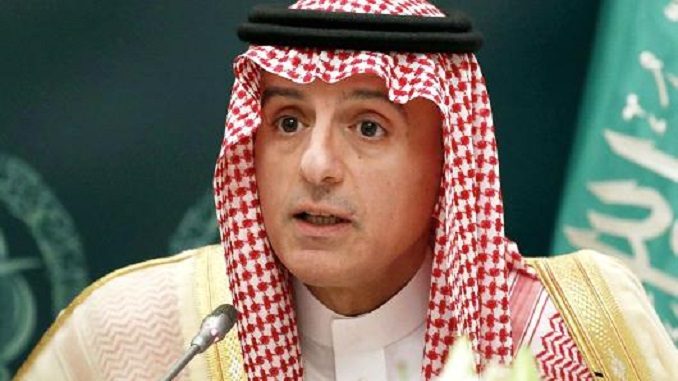 Saudi Arabia's foreign minister urged the international community to slap fresh sanctions against Iran on Thursday, accusing its arch-regional rival of supporting terrorism.
"We would like to see sanctions on Iran for its support of terrorism and sanctions on Iran for violating the ballistic missile resolutions of the United Nations," Adel Al-Jubeir, Saudi minister of foreign affairs, told CNBC Thursday. Asked whether Saudi Arabia was headed for a direct conflict with Iran, Al-Jubeir replied, "We hope not."
He went on to say the most effective way of dealing with Iran would be for the international community to hold Tehran accountable for "fixing" the nuclear agreement, supporting terrorism and for its ballistic missile program. Al-Jubeir said Thursday that the landmark nuclear deal between Iran and six world powers was "weak," especially given that Tehran would be capable of assembling a bomb "within weeks." He added he would like to see international agencies carry out a "much more robust" job when conducting inspections in Iran.
Saudi Arabia blames Iran for allegedly being behind a ballistic missile attack on Saturday. The missile, which was fired by Houthi rebels in Yemen, was intercepted in flight near Riyadh's airport. On Monday, Saudi Arabia's Crown Prince Mohammed bin Salman said Iran's alleged actions may be considered "an act of war," state media reported.
United States, on the other side, accused Iran on Tuesday of supplying Yemen's Houthi rebels with a missile that was fired into Saudi Arabia in July and called for the United Nations to hold Tehran accountable for violating two UN Security Council resolutions.
U.S. Ambassador to the UN Nikki Haley said information released by Saudi Arabia showed the missile fired in July was an Iranian Qiam, which she described as "a type of weapon that had not been present in Yemen before the conflict."
"We encourage the United Nations and international partners to take necessary action to hold the Iranian regime accountable for these violations," Haley said.
Saudi UN Ambassador Abdallah Al-Mouallimi echoed Haley's call for UN action against Iran in a letter to the UN Security Council and Secretary-General Antonio Guterres later on Tuesday, seen by Reuters. He said the missile fired on Saturday "may amount to a war crime" and that Saudi Arabia was "taking appropriate measures to respond to these terrorist acts."
Under a UN resolution that enshrines the Iran nuclear deal with world powers, Tehran is prohibited from supplying, selling or transferring weapons outside the country unless approved in advance by the UN Security Council.