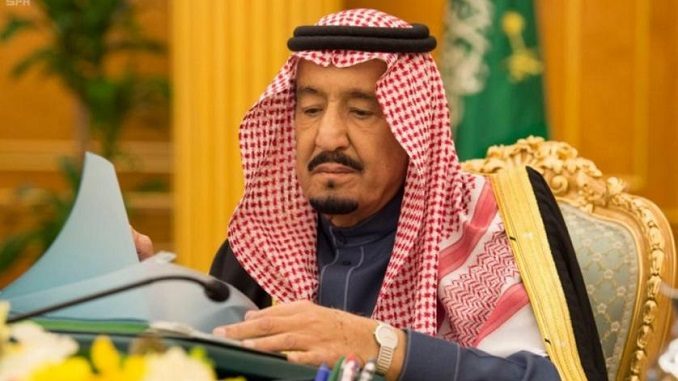 Custodian of the Two Holy Mosques King Salman bin Abdulaziz chaired on Tuesday a cabinet session in Riyadh during which he relayed to ministers the details of talks he held with various foreign leaders on the latest regional developments, reported the Saudi Press Agency (SPA).
The monarch had held contacts with U.S. President Donald Trump, Russian President Vladimir Putin, French President Emmanuel Macron and British Prime Minister Theresa May.
They expressed to him their condemnation of the Iranian-backed Houthi militias' firing of a ballistic missile towards Riyadh some two weeks ago, saying that they reject that the kingdom come under any security threats, said SPA. They voiced their appreciation for Saudi Arabia's role in combating terrorism and extremism, stressing the need for the international community to be wary of Iran's disruptive role in the region.
King Salman also informed ministers of the details of the verbal message he received from Kuwait Emir Sheikh Sabah al-Ahmed al-Jaber al-Sabah and another he received from Morocco's King Mohammed VI. He also revealed the details of the talks he held in the Kingdom with Palestinian President Mahmoud Abbas, Turkish Prime Minister Binali Yıldırım and Kuwait First Deputy Prime Minister and Minister of Defense Sheikh Nasser Sabah al-Ahmed al-Sabah.
Information Minister Dr. Awad bin Saleh al-Awad told SPA that the cabinet reviewed the latest Arab, regional and international developments.
It renewed the Kingdom's strong condemnation of the bombings that took place in each of the Afghan capital Kabul and the Russian city of St. Petersburg, as well as the terrorist attack against the Helwan church south of the Egyptian capital Cairo. The cabinet then approved a number of decrees, including the national defense strategy.