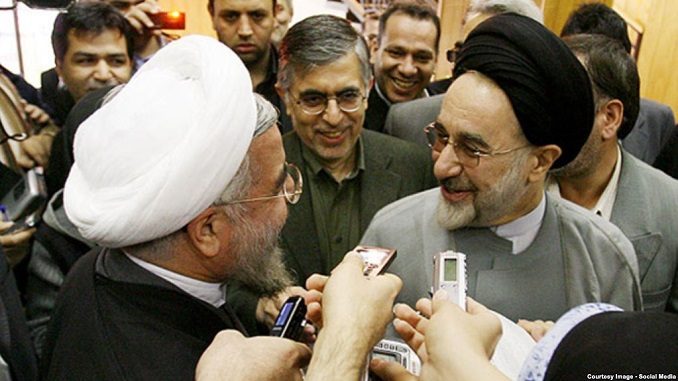 Security forces in Iran prevented former President Mohammad Khatami from leaving his house on Wednesday. According to the website Kalameh, linked to the Green Movement, security forces have told Khatami they had been instructed to stop him from going to a ceremony that he was supposed to attend.
Based on the report, Khatami's house is currently being guarded by security forces. Kalameh did not clarify what ceremony Khatami wanted to attend, but according to reports published on social media, the reformist president wanted to join a meeting at Baran Institute that he himself was presiding over.
While Kalameh reported that Khatami was allowed to go to work, Saham News, another reformist website said that the former president was under conditions similar to house arrest.
"Based on eyewitness accounts, three cars that belong to security organs are parked in front of Khatami's house for hours and have created a situation similar to house arrest for him," Saham News wrote.
The same website had reported two weeks ago that the Special Clerical Court had sent a letter to Khatami telling him that he was not allowed to attend any public or private event in the next three months. The ban applied even to going to theater, concerts, or any "non-family related" events, the report said.
This was later confirmed by Khatami's lawyers. However, judiciary officials have denied imposing any "new" restrictions on the former president.
The prosecutor of the Special Clerical Court announced that the measures against Khatami were taken based on an order by Iran's national security council. However, Hassan Rouhani, Iran's President and the head of the council has said in the past that the security council had never issued any order against the former president.
It is common in the Islamic Republic for different state organs or officials to contradict each other, since the system is based on parallel, overlapping and often competing centers of power.
Rouhani criticized restrictions on his ally Khatami and said sarcastically that Khatami was punished because he had asked people to participate in the presidential election and vote for him. He also criticized the judiciary for "not having anything else to do rather than summoning people."
Just days before no one prevented Khatami from going to Tehran University to meet with members of the Islamic Associations, where he criticized U.S. President Donald Trump for his recent speech against Iran's policies and the Islamic Revolutionary Guard Corps (IRGC). Additionally, he defended the IRGC, describing it as the pillar of Iran's national security.
The former president had also defended Iran's missile program and praised the IRGC for what he called fighting terrorism, Kalemeh reported on October 16.
"They should not misunderstand. There might be some different opinions in the Islamic Republic but, when it comes to guarding Iran's dignity, the foundation of the revolution, our principal national interests and resisting outside threats, we are unified and have no differences,"Khatami said.