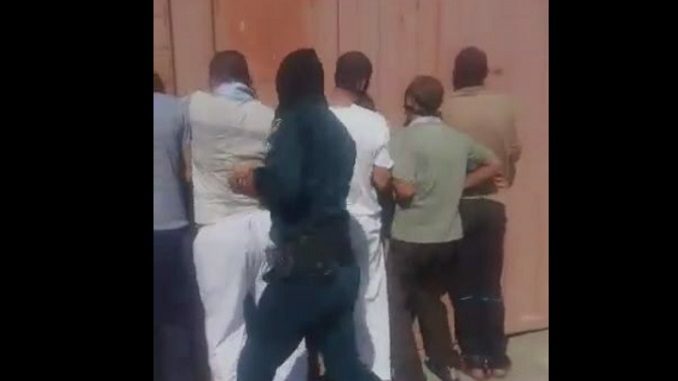 Ahwazi activists have been circulating a footage video through social media, revealing of the brutal torture carried out by the Iranian occupation security forces against Ahwazi detainees in prisons centre in recent days, Al Arabiya reports.
The video's time and place remains unclear but Ahwazi Arab activists said on social media that this video dates back to when Iranian security forces arrested Ahwazi Arabs on August 31 before Eid al-Adha.
This led to a state of anger and indignation among citizens, who called on all human rights organizations to intervene to stop the series of crimes committed by the authorities towards the Ahwazi Arab people.
The footage shows one of the masked members of the security special forces while beating detainees in different places, including the back and kidneys using martial art techniques, which causes severe pain to the detainees and threatens their lives. He can also be heard calling them names.
The sources within Al-Ahwaz suggested that the place that witnessed the torture was the headquarters of "Karoon operations" located in the "Ramadan" neighbourhood east of Ahwaz capital.
The video also showed the voice of one of the elements of the occupation forces that asks the Ahwazi detainees to imitate the barking of dogs to humiliate them. Iranian and Ahwazi Arab activists condemned the torture, which violates domestic and international laws and called for punishing the perpetrators.
The Ahwazi centre for human rights has previously warned of ill-treatment and torture of Ahwazi detainees by the Iranian security services. The Ahwazi centre for human rights, while deploring the inhumane action that is contrary to international human rights law, calls for the United Nations special rapporteur for Iran Mrs Asma Jahangir to condemn the sadistic act carried out by the Iranian security agent.