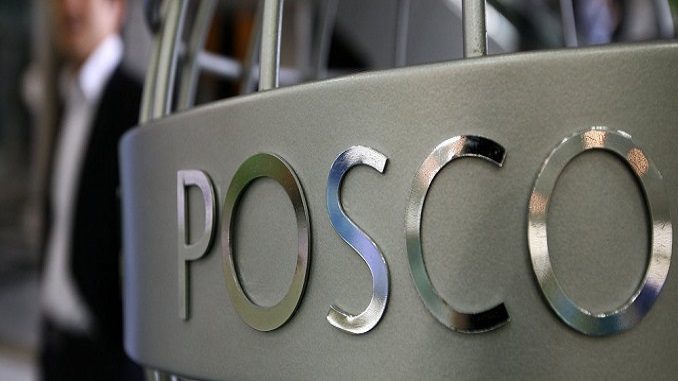 South Korea has stopped an investment deal in Iran's steel industry due to Saudi Arabia's influence, the latest development in the tug-of-war between Iran and Saudi Arabia has manifested in the kingdom,  Financial Tribune reports.
South Korea's POSCO Engineering & Construction had signed a $1.6 billion memorandum of agreement with the Iranian steelmaker, Pars Kohan Diar Parsian Steel (PKP), in May 2016, to build a steel mill incorporating POSCO's proprietary technology in Iran's Chabahar Free Trade-Industrial Zone.
The plant was to use FINEX steelmaking technology, allowing the direct use of cheap iron ore fines and non-coking coal as feedstock, resulting in significantly lower operating costs and emissions than a blast furnace. To recap the Saudi connection, in late 2015, POSCO sold a 38% stake worth $1.1 billion in its E&C division to Saudi Arabia's Public Investment Fund, giving the fund the right to appoint two board members.
Iranian-Saudi relations were increasingly fraught with political tension over the next year and a half, bringing POSCO E&C's new board members to not be so keen on investing in Iran, according to a July 2017 letter sent by a POSCO official to PKP and recently unveiled in the local media.
"This project mandatorily requires the decision of the board of directors. However, as relations between Iran and Saudi Arabia rapidly grew worse after a severance of diplomatic ties last year, outside directors in the board meeting are having negative stances on Iran projects, especially those requiring investment and JVC establishment," the letter said.
Emphasizing the political nature of the issue, the letter underlines that POSCO is having difficulty "convincing and reaching consent on the unfavorable opinion from the outside directors".
South Korea, one of Iran's top trade partners, imposed sanctions against Iranian companies and individuals in 2010 under growing pressure from the United States to join sanctions mandated by the United Nations Security Council over Iran's nuclear energy program.
The country was quick to make a comeback, however, as the sanctions were lifted in 2016 as part of Iran's nuclear deal–also known as Joint Comprehensive Plan of Action.
POSCO's decision to pull out of the deal with PKP does seem to be legal, as an MOA is not legally binding. And the situation may herald more trouble for Iran, as the kingdom's PIF and Saudi Arabian Monetary Authority are still on the hunt for other assets around the world. The kingdom and its (Persian) Gulf Cooperation Council allies can ramp up pressure against Iran and dampen the economic benefits of other post-nuclear deals for the country.
Yet, it didn't stop Iran to invest in South Korea. Iran's Entekhab Industrial Group is reportedly poised to acquire majority ownership of Dongbu Daewoo, a manufacturer of appliances and consumer durables, beginning a new chapter in an already complicated saga.
Entekhab, Iran's leading appliance manufacturer, first sought to buy Dongbu Daewoo in 2010. Daewoo's then creditor, Woori Bank, had initially selected Entekhab's bid of USD 513 million over an offer from Sweden's Electrolux, a globally recognized appliance maker. But the deal would collapse a year later, reportedly over haggling over the final price and delays in Entekhab's search for financing at a time when international sanctions were tightening. At the time of the failed bid, Daewoo disclosed that sales via Entekhab accounted for less than 5 percent of the Korean firm's total sales. Some industry figures questioned the commercial logic of Entekhab's move, especially at a time when Iranian ownership was an increasing liability.
Yet the door would remain open for Entekhab. Electrolux likewise failed in its subsequent effort to make the acquisition. By that point, Daewoo's creditors had attempted to offload the company five times. Entekhab pursued legal action against Daewoo's creditors after being passed over. Meanwhile, the Korean firm limped along with an injection of capital from financial investors. Entekhab has been a committed suitor, and its commercial relationship with Daewoo persisted. The Iranian firm has a longstanding relationship with the Korean appliance maker whose products it has both imported and manufactured under license for decades. In May of last year, the companies signed an expanded supply contract.
Now Entekhab has a second chance to make the acquisition. Reports suggest that the new deal could be worth just USD 188 million, considerably less than the 2010 bid. Given that Daewoo generated USD 1.4 billion in revenue in 2016, the company's valuation points to considerable structural issues. Daewoo has a large international presence, with 80 percent of sales generated outside of South Korea, but its growth has lagged behind competitors such as Samsung and LG.
The deal is a rare one. Iranian companies are rarely on the buy-side of cross-border M&A. Entekhab's move would be a landmark deal and would follow a pattern by which industrial players from emerging markets have increasingly sought synergies and market share outside their home markets. Tellingly, if Entekhab succeeds in its latest acquisition effort, it will have beaten out a rival bid from Turkey's Vestel.
Entekhab is a large enterprise by Iranian standards. Entekhab Industrial is a subsidiary of Entekhab Investment Development Group, which has interests in the steel, oil and gas, and petrochemical sectors. Underscoring its commitment to both consumer retail and partnerships with Korean firms, the group recently opened Iran's first modern convenience store concept, CU Entekhab, in partnership with South Korea's largest convenience store operator, BGF Retail.
Enthekhab Industrial boasts 5,000 employees, 12 manufacturing facilities, and over 200 retail outlets. The company holds the leading position in Iran's valuable appliances market. In 2010, turnover was reported at USD 500 million. Entekhab would gain two things in the acquisition. First, it would acquire Daewoo's valuable technology and intellectual property. Second, it would inherit Daewoo's presence in 40 overseas markets, offering Entekhab new export growth potential for its Iranian-made goods.