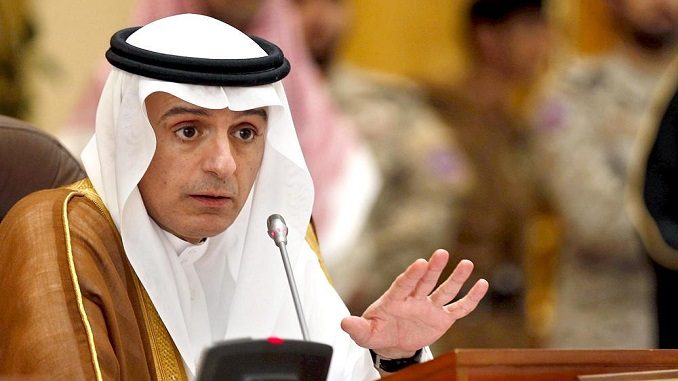 The nuclear deal with Iran is unacceptable because Tehran could not be trusted to not produce a nuclear bomb in the future, Saudi Arabia's Minister of Foreign Affairs Adel Al-Jubeir said. The so-called "sunset clause" in the Joint Comprehensive Plan of Action (JCPOA) means that in eight to ten years' time Iran could manufacture a nuclear bomb "within weeks," Arab News reported
"We believe the sunset provision is very dangerous. We don't trust that Iran will not try (to make a nuclear bomb) eight to 10 years from now," Al-Jubeir said while addressing the foreign affairs committee of the European Parliament.
According to him, "by the time they kick out the inspectors and by the time the condemnations end, they will have one bomb."
"By the time they get a resolution in the UN, they'll have three bombs and by the time the resolution is in place they'll have a dozen bombs. And we are right next to them. Our point is enough is enough. They need to start to act as a normal country. The revolution is over. If they want to be respected in the world they need to abide by the rules of the world," Al-Jubeir emphasized.
Previously, Iranian Deputy Foreign Minister Abbas Aragchi denied that the nuclear deal contained a sunset clause. Speaking in London at the Royal Institute for International Affairs at Chatham House, he said that the deal made clear Iran's permanent commitment to not having nuclear weapons, but added that the deal still gave Iran the right to continue its ballistic missile program.
"We — that is Iran and the Joint Comprehensive Plan of Action participants — decided quite intentionally to de-link Iran's nuclear program from any other issue. Otherwise if we had wanted to have a package — with ballistic missiles, regional issues — then we would still be in negotiations," said Araghchi.
He stressed that they had success because they were focused on one issue.
"It would be a big mistake if anyone tried to link the Joint Comprehensive Plan of Action to any other issue — to regional issues, to Syria or Yemen. Not only would we lose the JCPOA but it would not help those other issues," the deputy foreign minister said.
Araghchi also accused the United States of pouring "poison" on Iran by prevaricating over whether Tehran had complied with the terms of the agreement.
"The US has created an atmosphere of uncertainty. This is like poison for the business community for Iran. This destructive atmosphere prevents banks, companies, entities from working with Iran," he said.
According to Araghchi, Iranians had not benefited greatly from the lifting of sanctions because of what he described as the suspicion and mistrust generated primarily by the United States.