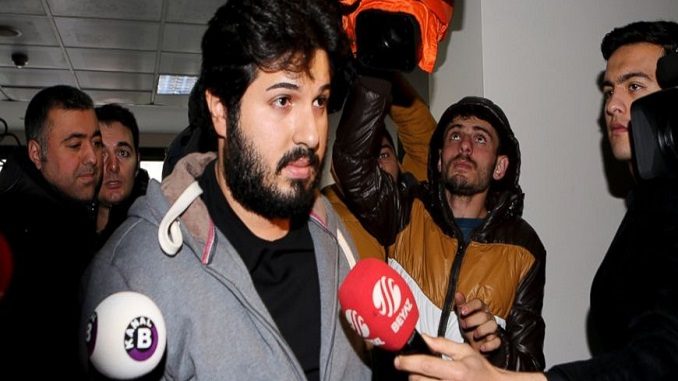 The politically fraught trial of a Turkish-Iranian businessman accused of running a multibillion-dollar scheme to evade U.S. sanctions on Iran gets underway next week but is widely expected to start without the main suspect Reza Zarrab, Voice of America reports.
Zarrab is a 33-year-old multimillionaire of dual Iranian-Turkish citizenship with business interests in Turkey and the United Arab Emirates, and ties to the governments of Turkey and Iran.
He was arrested in Florida in March 2016 while on a family trip to Disney World and later moved to New York to face criminal charges of helping Iran evade U.S. sanctions between 2010 and 2015 by laundering money through the U.S. financial system and bribing Turkish officials. Many watching the case believe Zarrab flew to the U.S. in 2016 knowing he would be arrested.
"Zarrab received information an Iranian hit team was after him, to assassinate him, and he didn't think Turkish police was going to do a good job to protect his life," Yesilada said. "So he chose prison in the United States." Zarrab's partner, Babak Zanjani, is currently facing a death sentence in Iran.
Zarrab is accused of using a network of front companies in Turkey and the UAE to disguise hundreds of millions of dollars of business transactions on behalf of the Iranian government and other Iranian entities. One entity, Mahan Air, is charged with ferrying fighters to Syria. Among other things, Zarrab is accused of shipping gold to Iran in exchange for Iranian oil and natural gas in a scheme known as "gold for gas."
The study found that Mahan Air Corporation has had extensive relationships with the Iranian Regime since its first days- even using government facilities to launch and expand its company. It is not merely working with the IRGC and the Qods but it fully owned and operated by them, Iran Focus reports.
"The Mahan Corporation was established shortly after the formation of the Qods Force as a centralized force and a foreign organ of the IRGC. This does not appear to be a coincidence, given the background of some of the company's highest officials. Most of the main members of the Mahan Company have been born in Kerman and most are members of the IRGC, specifically commanders of the Qods Force. Their relationships precede Mahan's founding," the report reads.
Eight other people, including Zarrab's 39-year-old brother, Mohammad Zarrab, and a former minister of economy, Mehmet Zafer Caglayan, have been indicted on charges related to the scheme.
Turkey's government is depicting an upcoming trial in the United States against a Turkish-Iranian businessman for alleged sanction-busting as a "conspiracy" against Turkey.
Deputy Prime Minister Bekir Bozdag on Monday also described the main defendant, gold trader Reza Zarrab, as a "hostage" who he claimed was being forced to testify against Turkey's government. Bozdag said: "The case is political, lacks any legal basis and is a conspiracy against Turkey."
Turkey says the case has been built on evidence initially concocted by followers of U.S.-based cleric Fethullah Gulen, who is accused of orchestrating last year's failed coup.
The dual Iranian-Turkish citizen may know something about the explosive allegation that the Turkish government offered Michael Flynn $15 million to kidnap Fethullah Gulen, a cleric living in Pennsylvania who the Turkish government blames for the 2016 attempted coup.
The indictment also mentions discussions about a transfer of nearly a million dollars to Canada through Mapna Group, a major Iranian construction and energy company.
The case has also depressed the stocks of banks that could be hit by the allegation that the defendants worked with Ankara and Tehran to help Iran evade U.S. sanctions that prohibit it from using U.S. dollars or U.S. financial institutions to conduct trade.