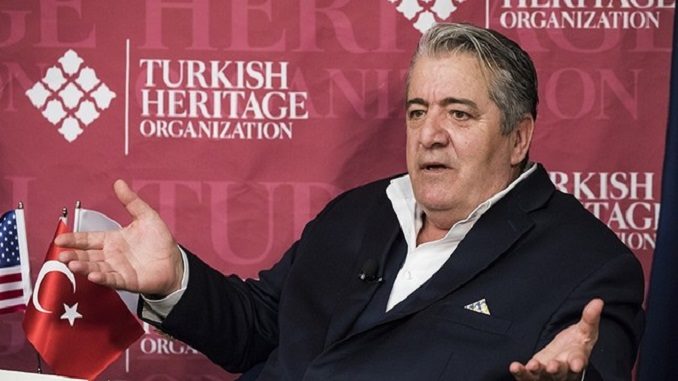 A former Turkish general who is now leading one of Turkey's most important defense companies warned a Washington audience that the U.S. partnership with PKK's Syrian offshoot People's Protection Units (YPG) was pushing Turkey to the side of Iran and Russia, Daily Sabah reports.
"We can balance Iran and Russia in Syria. We have a working experience with them. Please review your Syria policy [that depends on YPG]. We can fulfill whatever your needs are in Syria. But don't push us to the other side. You are pushing us toward Iran and Russia's side," Retired Major General Ahmet Bertan Nogaylaroğlu said at a panel hosted by Washington-based Turkish Heritage Organization, (THO) on Wednesday.
The general, a Deputy Chairman of Directors of Turkish Aerospace Industries (TAI), said that the NATO and the U.S. must show empathy towards Turkish concerns because 13 of the 16 major international problems determined by NATO were around Turkey.
"Now we are under threat from Syria. We are on the front [facing] these problems. When will NATO come to our help?" he added.
The Pentagon released several statements saying that Turkey and the U.S. have necessary means to de-conflict Turkish and American forces since both countries are NATO allies and part of the coalition against Daesh. On January 20, Turkey launched Operation Olive Branch along with the FSA to clear PKK/YPG and Daesh terrorists from Afrin, northwestern Syria.
According to the Turkish General Staff, the operation aims to establish security and stability along Turkey's borders and the region as well as to protect Syrians from terrorist oppression and cruelty. Afrin has been a major hideout for the PKK/YPG since July 2012, when the Assad regime in Syria left the city to the terror group without a fight.
Meanwhile, a Kurdish pastor is issuing a wake-up call to Israel and the West: Turkey, not Iran, is Israel's biggest threat, and Turkey is aiming to take over Kurdish controlled areas of Iraq. In a letter to CBN News detailing the Turkish-led siege on the Kurds in northern Syria, Pastor Majeed Mohammed, formerly with the Kurdsman Church in Erbil, says while Iran has not hidden its agenda against Israel, Turkey's Islamist President Recep Tayyip Erdogan is the bigger enemy.
Majeed, who is now living abroad, says there are many Christians in Afrin who are crying out for help. The West, he pleads, must wake up to the Turkish siege against Afrin and other Kurdish cities in Syria and Iraq before he succeeds in extending the Shi'ite crescent along northern Iraq to the Mediterranean Sea.
At the same time, UN called on Russia, Iran, and Turkey to break Syria aid deadlock after United Nations humanitarian task force has been unable to make deliveries to desperate Syrians for the past two months as President Bashar al-Assad's government has withheld approval for aid convoys, the UN humanitarian adviser said on Thursday.
"It's an all-time low in giving us the facilitation letters," adviser Jan Egeland told reporters after meeting senior diplomats in Geneva.
Insurgents fighting Assad's forces were also creating obstacles, contributing to the worst situation since 2015, he said. Egeland called on Russia, Turkey, and Iran to de-escalate the fighting in Idlib governorate, which he said was "screaming for a ceasefire".
"When we need their ability to influence the parties the most, in this bleak hour for humanitarian work, humanitarian diplomacy seems to be totally impotent. We're getting nowhere at the moment."