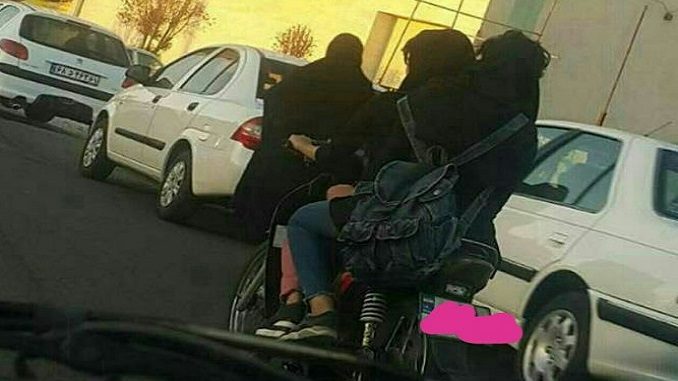 Iranian authorities arrested two female students for driving a motorcycle in public after their pictures had been published online yesterday. According to IRNA News, the commander of the law enforcement of Dezful (southwest of Iran) stated:
"Two girls whose pictures were released in the social media while motorcycling have been identified and arrested quickly by the police forces. These two girls are originally from Dezful and they have been summoned for guidance and admonition," Colonel Ali Elhami added.
According to the regime's officials, motorcycling is forbidden for women.
"The two girls went to motorcycle with the aim of attracting attention with no regard to the law that does not provide motorcycle certification given to women and by disrespecting the Islamic law," he said. "The Disciplinary Police were gone to Sardasht-Dezful Rout to implement the moral laws and to cope with irregularities and anomalies, and in their absence the two girls used the opportunity for motorcycling in Dezful Forest Park which is opposed to the values and norms of the society and the Revolution," colonel Elhami added concerning the detention of the two motorcyclists.
Elhami continued explaining that publishing such images in cyberspace would only inflame the society and would not bring any benefit to the city. It is noteworthy that in 2016 two women were also arrested while motorcycling in Dezful, and the news at the time was shared vastly on social media and cyberspace.