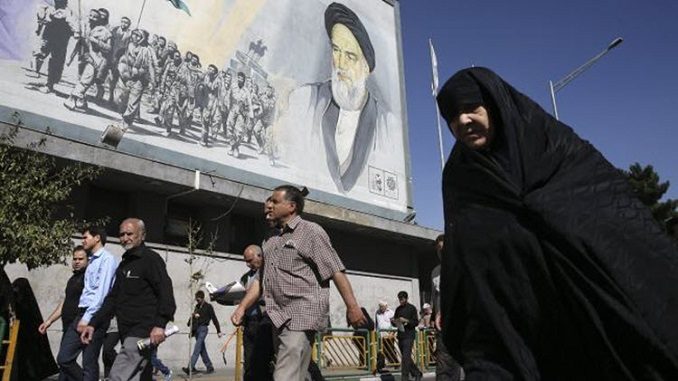 Questions regarding the number of dual American and foreign nationals who have been found to be evading the United States sanctions law and conducting business in Iran are growing, Iran Focus reports.
The Treasury sanctions apply to both U.S. citizens and U.S. residents, but several U.S. persons with dual citizenship who have been found in violation of sanctions, have been arrested and tried in recent years. It has also been reported that individuals and companies illegally bypass U.S. sanctions by opening businesses in a country that is not listed on the United States Treasury Department's sanctions list to do business with Iran.
The United States Department of Justice charged multiple dual U.S. persons and a foreign airline In February, with trying to avoid federal anti-terror restrictions by illegally shipping aircraft parts with dual military and civilian uses to Syria, where Iran has a strong presence.
In Miami federal court last month, Ali "Alex" Caby, Arash "Axel" Caby and Marjan Caby, pleaded guilty to conspiring to defraud the United States, and to illegally exporting these dual-use military parts to Syrian Arab Airlines.
The Treasury Department says that this government-run airline is "blocked by OFAC for transporting weapons and ammunition to Syria in conjunction with Hezbollah, a terrorist organization, and the Iranian Revolutionary Guard Corps (IRGC)."
The Department of Justice listed Ali Caby as a "U.S. permanent resident currently residing in Bulgaria" and listed Arash Caby, and Marjan Caby as being from Miami, Florida. In January 2016, the Obama administration agreed to pardon seven Iranians, of whom six are dual U.S.-Iranian citizens, as part of a prisoner swap that released four Americans — reporter Jason Rezaian, Pastor Saeed Abedini, former Marine Amir Hekmati, and businessman Nosratollah Khosravi-Roodsari.
The Iranians were reportedly "convicted in the U.S. or awaiting trial on charges of trying to circumvent sanctions restricting commerce with Iran. In addition, U.S. authorities dismissed charges and removed Interpol alerts against 14 other Iranians whom it believed would never be extradited."
Government prosecutors often go after larger corporations rather than individuals because larger fines are associated with this. As an example, in 2015, Schlumberger Ltd, an oil company, paid $233 million in fines for violating Iran sanctions. It is not only dual U.S.-Iranian nationals, as the U.S. has been involved in an ongoing probe and lawsuit into Iranian-born Turkish businessman Reza Zarrab, the deputy manager of Halkbank, a state-owned Turkish bank, for "conspiring to use the U.S. financial system to conduct hundreds of millions of dollars' worth of transactions on behalf of the government of Iran and other Iranian entities, which were barred by United States sanctions."
Peter Harrell, deputy assistant secretary for Counter Threat Finance and Sanctions in the State Department's Bureau of Economic and Business Affairs under former President Barack Obama, said that "both at the Treasury Department in OFAC [Office of Foreign Assets Control] and also in the U.S. Attorney office's Department of Sanctions you do see sanctions enforcement. And, no doubt, when they see press accounts of this type you mentioned, they will look to enforce."
"Treasury does not have statistics available on exactly how many dual citizens might have violated sanctions. While we don't comment on current investigations, American citizens who violate Treasury sanction authorities would likely be subject to OFAC enforcement authorities, and possibly other law enforcement authorities, subject to the facts of the case," the Treasury Department recently confirmed.
The Treasury said that the department works closely with law enforcement and the State Department on a daily basis. The Treasury Department also confirmed that "both an Iranian citizen who is a permanent resident alien of the United States and an individual who is a dual U.S.-Iranian citizen meet the definition of a U.S. person set forth in section 560.314 of the ITSR, regardless of where in the world they are located."
According to the Treasury, U.S. persons are generally prohibited under the ITSR from engaging in transactions or dealings involving Iran that are not exempt from regulation or authorized by OFAC.
However, OFAC has issued a number of general licenses that authorize U.S. persons, including Iranian citizens who are permanent residents of the United States and dual U.S.-Iranian citizens located anywhere in the world, to conduct certain activities with regard to Iran that would otherwise be prohibited under the ITSR, such as the exportation to Iran of agricultural commodities (including food), medicine, and medical supplies and the exportation of hardware, software, and services incident to personal communications.
The United States committed in the JCPOA to license certain activities involving U.S. persons, including the sale to Iran of commercial passenger aircraft and related parts and services, provided they are used exclusively for commercial passenger aviation; the importation of Iranian-origin carpets and foodstuffs; and activities involving Iran conducted by foreign subsidiaries of U.S. companies.