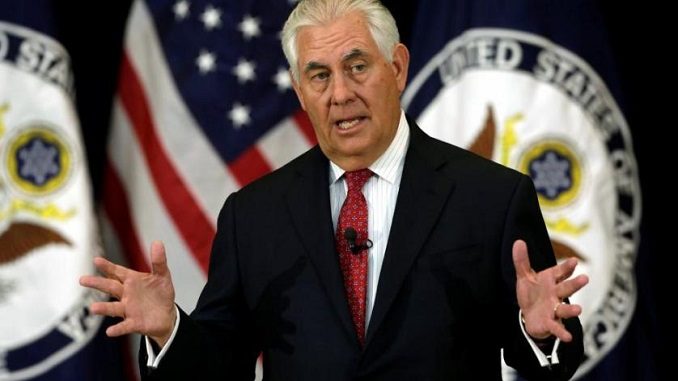 The United States asked its European allies, including Turkey, to stand together against Iranian threats, Asharq Al-Awsat reports.
"We are committed to addressing the totality of the Iranian threat," Tillerson said, calling on European partners to stand up to "all of Iran's malign behavior."
Tillerson was speaking at the Wilson Center in Washington on the topic of 'The U.S. and Europe: Strengthening Western Alliances.'  The U.S. top official noted that the nuclear agreement was no longer the only pillar of U.S. policy towards Tehran, pointing out that Washington was committed to face the Iranian threat in all its forms.
"Europe and the United States don't want another nuclear threat like North Korea, nor are any of our nations at ease with Iran's attempts at hegemony in the Middle East through support for terrorist organizations, militias on the ground in Iraq and Syria, and an active ballistic missile development program," he stated.
In the same context, the U.S. Secretary of State emphasized that with the defeat of ISIS on the ground, the UN-led Geneva talks were the basis for rebuilding Syria and finding a political solution, which should not include a role for Assad or his family in power. He also said that the United States and its European allies "agreed to hold Bashar Assad responsible for the crimes he committed against his people, through the imposition of sanctions."
With the defeat of ISIS on the ground, Iran has emerged as an influential player in Iraq and Syria. In Iraq, it backs the powerful Shi'ite militias and in Syria it is a key ally of Damascus, providing military support to regime forces and coordinating with Russia and Turkey in the Astana and Sochi peace initiatives.
"Call it what you want, a Shia area, a Shia crescent, or an area of Iranian influence – this is the situation now. It's already in place," Kasim Muslih, a commander within Iraq's Iranian-backed militias, recently told the BBC's Feras Kilani in eastern Syria.
"We ask Turkey as a NATO ally to prioritize the common defense of its treaty allies," Tillerson said, addressing his audience less than a week after fellow NATO member Turkey held a presidential summit with Russia and Iran. He added that Iran and Russia cannot offer the same economic benefits to Turkey as the West can.
U.S. President Donald Trump announced a new strategy on Iran last month – accusing Tehran of violating the spirit of the JCPOA nuclear deal and slapping terror-related sanctions on the Revolutionary Guards (IRGC). He said at the time that he hoped to "recruit" European support.
The European Union has continued to back the nuclear deal as a key mechanism for nuclear non-proliferation and regional security. The EU has insisted that other concerns, specifically ballistic missiles and increasing tensions in the Middle East, must be addressed outside of the JCPOA.  Iran has been in compliance with the nuclear deal.