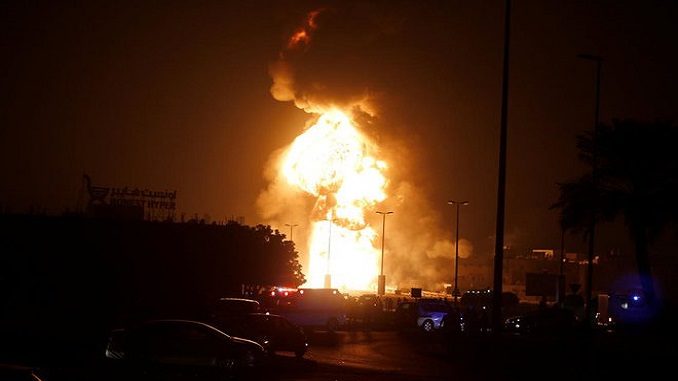 Bahrain said on Wednesday a bomb attack on a police bus which killed an officer and wounded nine last month was carried out by a militant cell trained by its arch-foe Iran, Reuters reports. A policeman was killed and eight others wounded in last month's attack, said the public security chief Major General Tarek Al-Hassan at a press conference. Back on October 27, the security services managed to dismantle a serious five-member terrorist cell and abort a major design against certain officials and oil pipelines, he said.
Al-Hassan noted that terrorists, who received training abroad, were preparing explosive devices and firearms for the planned crimes. He added that the cell had carried out two attacks on police patrol in Sitrah area on February 12 and February 14, 2017, and a similar attack on August 13. After authorities quashed Shi'ite Muslim-led "Arab Spring" protests on the Sunni-ruled island in 2011, militants have launched deadly bombing and shooting attacks against security forces that Bahrain blames on Tehran's Shi'ite theocracy.
Iran denies any role in Bahrain's unrest. There was no immediate Iranian reaction to Wednesday's Bahraini interior ministry statement, which added that authorities had arrested one member of the cell while others were fugitives in Iran.
"The terrorist cell received extensive training in Iranian Revolutionary Guard camps on the use and manufacture of explosives and firearms, as well as material and logistical support," the ministry said.
Bahraini authorities have arrested a terror suspect on charges of plotting a recent deadly attack on a police bus and identified an Iran-backed cell involved in a series of plots including bomb attacks on three oil pipelines.
Bahrain's chief of public security told reporters at a press conference on Wednesday that Zuhair Ebrahim Jassim Abdullah Abas, 37, was arrested for plotting a bomb attack on a police bus on October 27 which resulted in the death of policeman Salman Anjam and the injuring of nine others. Abas' partner in the plot has reportedly escaped to Iran.
"This was one of a series of terrorist crimes that were planned and executed by a cell linked to Iran-based terror fugitives and closely connected to the Iranian Revolutionary Guards. The disruption of the terror cell foiled a major plot to target public personalities in Bahrain and launch attacks with explosives on three oil pipelines," a statement from an interior ministry spokesperson read.
The suspect arrested on Wednesday is part of a five-man terror cell identified for taking part in past attacks and plotting other ones across the island kingdom. In October 2011, the members of the cell travelled by land to Syria and then to Iran. Their passports were not stamped at the Syria-Iranian border. They travelled again to Iran in July 2017, according to authorities.
"Cell members were trained by the Iranian Revolutionary Guard on how to plan and execute bomb attacks. This included training on how to plant bombs. The types of explosives used included TNT, RDX and C4. They were also taught how to make moulds for shaped charges, and received training on the technical aspects of bomb-making. They were trained to handle tasers, AK-47s, M16s, RPGs, and pistols," authorities said.
The members went to Syria in October 2011 and then on to Iran without stamping their passports at the Syrian and Iranian borders. They also travelled to Iran again in July 2017. The cell includes four other fugitives convicted or wanted in cases linked to terrorist activities. In Bahrain, the cell members rented an apartment and used it as a workshop to make the explosives that were used in attacks on police patrols in Sitra on February 12 and 14 and in another assault on August 13.
The cell also targeted police officers who were on duty to help secure Ashoora processions on October 2, wounding five and a police bus on October 27, killing Salman Anjam and wounding nine, Al Hassan said. The cell also stole plates of private cars and heavy vehicles and used them in the cars that carried them to crime scenes.
Bahraini authorities identified the following men as part of the cell: Qassim Abdullah Ali Ahmed, also known as "Qassim al-Muamen", 28, whose Bahraini nationality was revoked after being sentenced in absentia to life imprisonment on terror charges. The second man identified is Sadiq Jaffar Mohammed Abdullah Al Tooq, 36, and wanted on terror-related charges, including the manufacturing and possession of homemade bombs.
Mahdi Ebrahim Jassim Abdullah, 28, was the third identified member and was earlier sentenced in absentia to 30 years on terror charges, including bomb-making. The fourth fugitive was named as Mohammed Mahdi Mohammed Hassan, 39, a heavy truck driver wanted on suspicion of plotting acts of terrorism, manufacturing bombs, and executing acts of terrorism. He was sentenced in absentia for eight cases of robbery and rioting. All four men are currently fugitives after escaping to Iran.
Bahrain said earlier this week that an explosion at its main oil pipeline on Friday was caused by "terrorist" sabotage, linking the unprecedented attack to Iran. A key Western ally and host to the U.S. Fifth Fleet, Gulf Arab monarchy Bahrain has for years grappled with protests and sporadic violence coming from its Shi'ite majority.