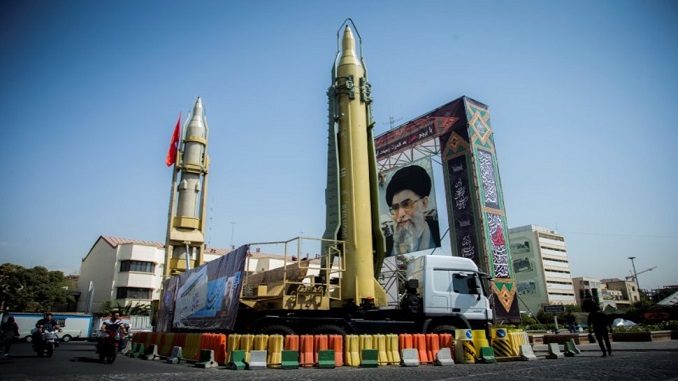 France and Germany agree that Iran must reverse its ballistic missile programme and end its "hegemonic temptations" across the Middle East, the French foreign minister said on Monday, Reuters reports.
"We also have the same view on the necessity for Iran to go back on its ballistic missile programme and its hegemonic temptations," Jean-Yves Le Drian said at a news conference alongside his German counterpart Sigmar Gabriel.
Iran's foreign ministry spokesman earlier on Monday said Paris should know that Iran's missile programme is not an issue that can be negotiated.
"The Islamic Republic of Iran will definitely not negotiate on defence and missile issues," Bahram Qassemi said on Monday, according to state media, indicating that French officials were ignoring recent history in the region.
Gabriel said the two countries would continue to defend the landmark 2015 nuclear deal between Iran and world powers. Iran said on Monday that France should know that the Islamic Republic's missile program is not an issue that can be negotiated.
"French official, other officials, who want to speak about Iran's affairs need to pay attention to the deep developments that have come to pass in the region in past decades and the big changes between the current situation and the past. Iran by no means will ever allow any negotiations on its defense and missile issues. The Islamic Republic has certainly the necessary persistence against such demands and considers it its own right to pursue its policies as it sees fit," foreign ministry spokesman, Bahram Qassemi, said in an interview with state media on Monday.
Ghasemi further called on France's authorities to take the realities of the region into consideration when making comments on other regional issues.  The Iranian diplomat went on to express hope that the necessary conditions would be provided in the near future for the meeting of Iranian and French officials in Tehran.
"We will have many discussions with Élysée officials so that they can have a more accurate and deeper understanding of issues related to Iran and our region. We will remind them that Iran is the only country that has paid a heavy price in fighting terrorism in the past few years," he said.
Ghasemi went on to add, "they need to remember that if Iran had not stood against terrorism, the terrorists would have left a far more devastating damage not only across the Middle East, but in Europe and other parts of the world as well, as it had been the case in some European cities in the past years."
"The Islamic Republic of Iran fought against terrorism with adopting the right policies and succeeded in pushing terrorists out of the battlefield to a large extent," he concluded.
Tension between Iran and France increased last month when French President Emmanuel Macron said that Iran should be less aggressive in the region and should clarify its ballistic missile program.  His foreign minister also denounced, during a visit to Saudi Arabia, Iran's "hegemonic temptations".
France could play a productive role in the Middle East by taking a "realistic and impartial approach", Iranian President Hassan Rouhani told Macron in a telephone call two weeks ago, according to Iranian state media.
Iranian state media said Rouhani told Macron that the Islamic Republic was ready to develop its relations with France on all bilateral, regional and international issues based on mutual respect and shared goals.