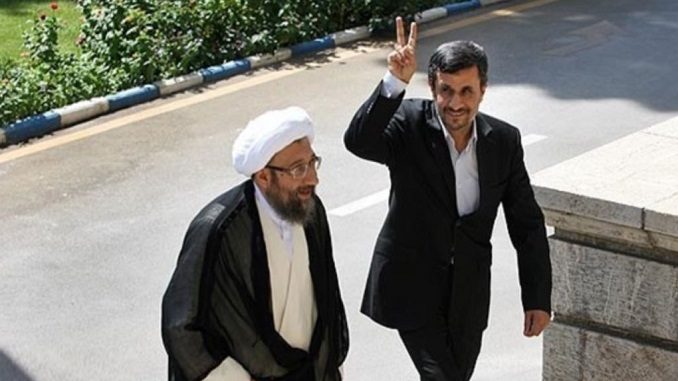 The head of the Islamic Republic's judiciary has accused twice former president Mahmoud Ahmadinejad of "high treason". Retaliating against recent Ahmadinejad's anti-judiciary vitriolic remarks, Ayatollah Sadeq Amoli Larijani accused him of "drawing the sword" against the ruling system in Iran and delivering "fifty different lies", Radio Farda reports.
Amoli Larijani, in a speech on Sunday, December 3, insisted, "Sadly, not only foreign enemies but also a number of insiders stoke the fire of the enemy and present weird lies while stabbing the country in the back".
According to the government's official news agency, IRNA, Amoli Larijani, without directly naming Ahmadinejad, also asserted, "A gentleman, who once was responsible for the country's affairs, has repeated fifty different lies in a matter of minutes". The head of the judiciary went further, saying "Some see themselves as the savior and try to make a business [out of it]"
Defending himself, Amoli Larijani noted that "some are desperately trying to defend their companions and question the ruling system and try to ruin the head of the judiciary and damage the whole justice system".
Revealing his recent letter to the regime's Supreme Leader Ali Khamenei, Iranian regime's former president has given new dimensions to the power struggle between regime's rival factions while describing the country's awkward situation. On Monday, November 27, Mahmoud Ahmadinejad revealed a letter he apparently wrote two weeks ago to Ali Khamenei.
According to Ahmadinejad, "due to heavy economic, propaganda and emotional pressures as well as political and psychological ones, many people and families are subjected to serious harms and breakdown, and a bleak outlook has been formed in the minds of all people, the youth in particular. Considering the country's current conditions, hope for a better future has reached bottom low."
In another part of his letter, Ahmadinejad focuses on his conflict with regime's judiciary, saying "irregular, unjustified, and unlawful insistence on sticking to personal and political stances and involving those viewpoints in judicial process while taking advantage of judicial power in political, personal, and family relations has stripped the judiciary of any chance to address and improve its status, avoid mistakes and injustice, attempt to resolve the country's major problems and realize people's rights."
Ahmadinejad says he's against Larijani brothers and their dominance over the country's (judicial and legislative) branches. He then refers to judiciary's performance as the source of public discontent in the country, saying "having 17 million judicial cases means that an overwhelming majority of Iranian families are somehow involved in lawsuits. Ahmadinejad's fierce attack on the judiciary is despite the fact that the branch played a key role in oppressing the 2009 uprising during Ahmadinejad's second term.
The letter was released a few hours after regime judiciary's spokesman 'Mohseni Ejei' referred to Ahmadinejad's attacks on the judiciary, describing him as a 'thug who talks big'. At a press conference on November 28, 2017, judicial spokesman Hossein Mohseni-Ejei described Ahmadinejad as a "lout who has fallen out of favor" and who has hurled "dozens of lies and insults" at the judiciary.
"It seems some people have become accustomed to making false statements and telling lies. They think they are above the law and bigger than anyone. They are so egocentric and arrogant that they think everything they utter is the absolute truth. Has the judiciary become bad in recent years just because it has been prosecuting people close to you? Wait and in the near future, you will see how the judiciary functions, God willing," he said.
Mahmoud Ahmadinejad has recently intensified his attacks on the judiciary, particularly targeting its head.  The war of words between the two sides began when the judiciary charged Ahmadinejad's close ally, Hamid Baghaei with financial corruption and put him behind bars. Baghaei was later released on a heavy bail.
Another close ally of Ahmadinejad, his former chief of staff, Esfandyar Rahim Mashshayee has also been summoned to court. In his last attempts to defend them, Ahmadinejad wrote an open letter to the Supreme Leader and bitterly criticized what he described as "judiciary's tyranny". Ahmadinejad accuses the judiciary of illegally and unjustifiably serving the personal and political interests of its own leaders.
The Supreme Leader, ayatollah Khamenei has yet to respond to the letter.