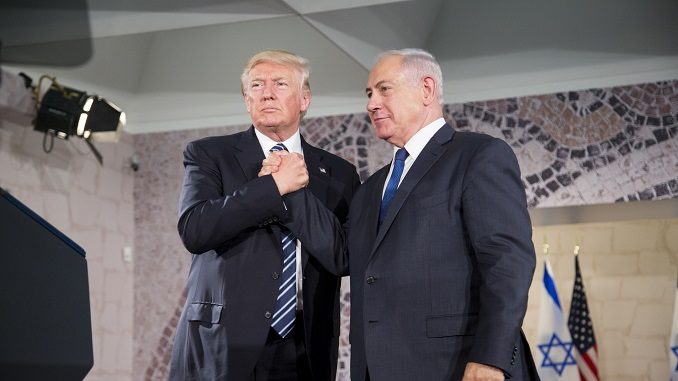 U.S. and Israeli officials reached a closed-door cooperation agreement on how to deal with Iran, which was allegedly signed on December 12 at the White House. According to Israel's Channel 10 News, the agreement aims to counter Iran's missile and nuclear programs and would translate U.S. President Donald Trump's October 13 speech decertifying the Iran deal into steps on the ground.
United States and Israel also decided to set up joint teams to combat Iran in the region. One of those teams would have to grapple with Iran's ties to the Lebanese militant group Hezbollah and Iranian activity in Syria, while the second team would have to deal with the nuclear goals of Iran. Third team would specialize in dealing with the country's missile program and fourth team would control preparations for any escalation from Hezbollah or Tehran.
Senior Israeli officials said that the two countries arrived at strategic understandings regarding Iran that would strengthen the cooperation in countering regional challenges.
"The U.S. and Israel see eye to eye the different developments in the region and especially those that are connected to Iran. We reached at understandings regarding the strategy and the policy needed to counter Iran. Our understandings deal with the overall strategy but also with concrete goals, way of action and the means which need to be used to get obtain those goals," unnamed officials told Channel 10 News.
Reportedly, U.S. national security adviser H.R. McMaster and his Israeli counterpart Meir Ben-Shabbat led the negotiations.
Relations between United States and Iran have declined after U.S. President announced in October that he would decertify the nuclear deal signed while Barack Obama was president. Earlier this month U.S. Ambassador to the United Nations, Nikki Haley, presented what she said was undeniable evidence that Iran was supplying weapons to Yemeni rebels, The Hill reminds.
In the meantime, relations between United States and Israel are getting better. This month Trump announced that the U.S would recognize Jerusalem as the capital of Israel, while Iran's legislative body on Wednesday voted to declare the city as the capital of Palestine.