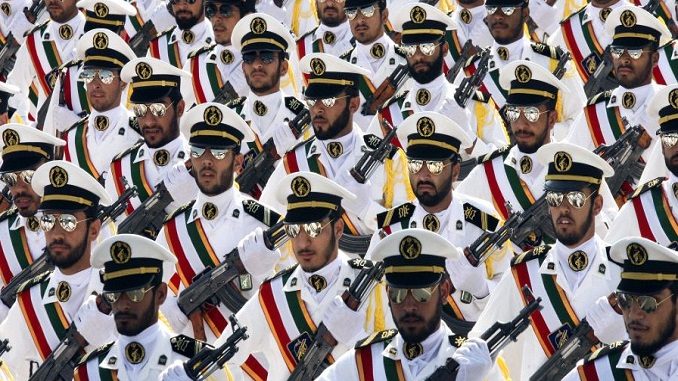 The House of Representatives passed four bills on Wednesday that would sanction Iran's ballistic missile activity and Hezbollah's terrorist practices. Three Hezbollah-related measures passed by voice vote, without opposition. The House will vote on Thursday on another bill, to impose additional sanctions on Iran related to its ballistic missiles program, Reuters reports.
The first bill is called the "Iran Ballistic Missiles and International Sanctions Enforcement Act," and is sponsored by Ed Royce, the chairman of the House Foreign Affairs Committee. This bill has bipartisan support.
An expert on Iran at the Foundation for Defense of Democracies, a Washington-based think tank, Amir Toumaj, said that the resolution "is meant to tighten sanctions on [the] IRGC (Islamic Revolutionary Guard Corps) missile programme and disruption of procurement."
The bill targeting Iran's missile work would require the president to report to Congress details of Tehran's missile supply chain, and determine whether its program violates international law. The U.S. treasury department designated Iran's Revolutionary Guard as a "supporter of terrorism" on October 13th, shortly after Trump's announcement that he was decertifying the nuclear deal.
Toumaj added that the resolution, "specifically seeks to prevent Iran from undertaking any activity related to nuclear-capable ballistic missiles."
If passed into law, the Iranian Revolutionary Guard Corps will likely bear the brunt of the sanctions, given its role in Tehran's ballistic missile development. The U.S. would further sanction Iranian individuals and agencies involved in the missile work, as well as "foreign entities that supply material" to the program.
The bill follows up on previous sanctions legislation targeting Iran's ballistic missile program, and reasserts that U.S. policy is "to prevent Iran from undertaking any activity related to nuclear-capable ballistic missiles," referencing the ability of ICBMs to carry nuclear payloads.
Three other bills considered in the House on Wednesday address Hezbollah activity. One would encourage the European Union to fully designate all of Hezbollah a terrorist organization, after the transcontinental body listed only its "military wing" as such in 2013.
Another would sanction Hezbollah individuals for their use of human shields as a war crime. And a third would beef up a 2015 sanctions law targeting Hezbollah's finances, requiring the president to report back annually to Congress on the net worth of the Lebanese group's leaders.
All four bills received voice votes, as is typical for noncontroversial, bipartisan legislation, and thus easily passed without precise roll calls.
U.S. President Donald Trump laid out a comprehensive strategy on Iran earlier this month that previewed harsh executive action on the Islamic Republic over its missile work and its funding of proxy militias, Hezbollah chief among them. In a speech on October 13, he said he would direct the Treasury Department to target the entirety of the IRGC, Iran's largest military organization and economic entity.
The sanctions aren't the most effective way to change Iran's behavior but could be the best political solution to balance Trump's demands with U.S. international commitments, said John Glaser, director of foreign policy studies at the Cato Institute, a libertarian research group in Washington, as quoted by Bloomberg.
"If Congress handles this delicately, avoids reimposing nuclear sanctions – which would constitute a violation of the deal itself – imposes some harsh sanctions that sound really tough and placate Trump, then this seems plausibly like the best way out of this impasse that the president has put us in," Glaser said.
Even with non-nuclear sanctions eroding some of the economic benefits Iran should see from the nuclear deal, Iran is likely to hold on to the deal unless the U.S. takes more explicit action on nuclear sanctions, according to Behnam Ben Taleblu, senior Iran analyst at the Foundation for Defense of Democracies.
"Ultimately Iran has the highest threshold for pain" because it wants to preserve the international legitimacy conferred by the Iran deal, Behnam said.
The House votes took place while the commander of Lebanon's armed forces, General Joseph Aoun, is visiting Washington, warning lawmakers and the Trump administration that additional sanctions might have adverse consequences if they end up breaking the nation's delicate economy.
The Lebanese government is concerned about repercussions from the Hezbollah sanctions on the country's fragile economy. If passed, HIFPA will require the U.S. president to release an annual estimate of the net worth of Hezbollah leaders and backers, including its secretary general Hassan Nasrallah and other backers.
However, winning international support for an intensified campaign against Hezbollah could prove difficult. The powerful organization is part of Lebanon's fragile coalition government and commands enormous support for the social services it provides.
According to Toumaj, these four pieces of legislation "are expected to have bipartisan support" and are not in violation of the nuclear deal, formally known as the Joint Comprehensive Plan of Action (JCPOA). He said of the bills, "they express U.S. intent to curb non-nuclear activities, specifically ballistic missiles and Hezbollah — two arenas the Trump administration perceives as serious threats from Tehran."