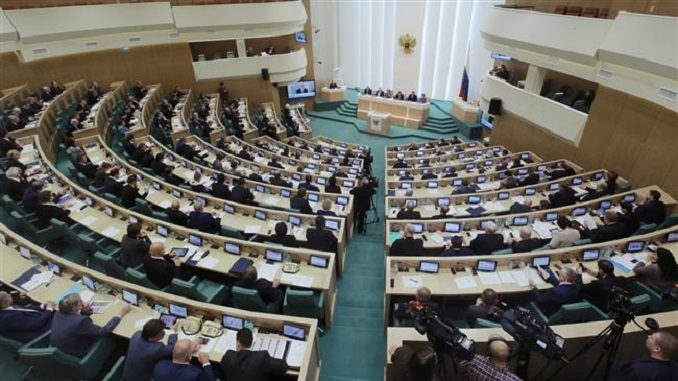 Russian lawmakers are set to call on their colleagues in the U.S. Congress and other Western legislatures to do all in their power to help protect the multilateral Iran nuclear deal, Press TV reports.
The Russian Federation Council's Foreign Affairs Committee has prepared a draft statement to remind U.S. Congress members of the importance of the 2015 Joint Comprehensive Plan of Action (JCPOA), and its significant contribution to the global regime of non-proliferation of nuclear weapons.
According to the draft, "the Federation Council addresses the U.S. Congress members with an urgent request to use all available resources and prevent" the collapse of the deal, which it said could lead to an "extremely dangerous situation."
The Federation Council also calls on parliaments of Germany, France, China, Great Britain and the European Parliament "to use their high influence on the political leadership of their states in order to maintain the historic agreement on the Iranian nuclear program."
"At present time the implementation of this agreement is under threat of complete failure because of U.S. President's Donald Trump's declared strategy concerning Iran that stipulates Washington's unilateral actions that violate the JCPOA up to full cancellation of US participation in it," the draft statement read.
The draft statement will be put to vote at the parliament on Wednesday, according to the report. On October 13, U.S. President Donald Trump, long known as the main critic of the landmark deal, declared his view of the JCPOA, saying that he would not certify Iran's compliance with the deal. At the same time he did not challenge the compliance of Iran on international level.
The move paves the way for Congress to put new restrictions on Iran. However, it is believed that Trump would not recommend the Congress to re-impose sanctions in order to reach a compromise with many congressional leaders who stand for keeping the deal at least with some changes.
Elsewhere in its statement, the Russian Senate warned that the U.S. withdrawal from the pact would very likely prompt Iran to take reciprocal actions and undermine Tehran's trust in the Western powers' ability to honor agreements.
Additionally, Russian Deputy Foreign Minister Sergei Ryabkov sharply criticized Trump's position on the Iran deal last week and said while Tehran has fully honored its obligations, Washington "violated not only the spirit, but also the letter" of the JCPOA. In case sanctions are applied, the United States would find itself in breach of its commitments. This means a unilateral withdrawal from the agreement, which will damage the reputation of the U.S. in the eyes of world community.