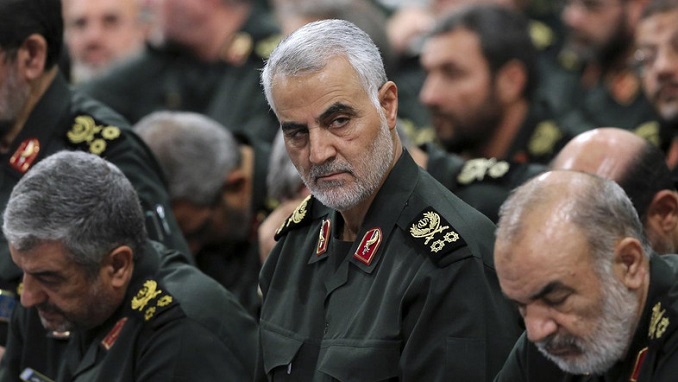 The commander of the Quds Force of the Iranian Revolutionary Guards, Qassim Soleimani, threatened the Kurds with an attack by the Popular Mobilization militias if they did not stop the referendum in the Kurdistan region of Iraq due to be held on September 25 Kurdish sources said as quoted by Al Arabiya.
The Monitor website reported from a close source to the Patriotic Union of Kurdistan that Soleimani visited Kurdistan recently and informed the leaders of the Union who have close ties to Tehran that: Iran has so far prevented the intervention of the popular Mobilization militias in Kirkuk, yet Tehran will not stop the Popular Mobilization militias if they carry out an attack on Kurdistan.
"So far, we have prevented the popular mobilization militias from attacking the Kurdistan region, but we will not hamper their efforts anymore." Soleimani stated, according to the same source.
PUK sources said Soleimani and the United States envoy to the anti-ISIS coalition Brett McGurk tried separately last week, through their visits to Baghdad, Sulaimaniya and Erbil, to persuade all parties to return to dialogue table in order to reach an agreement and called on the Kurdistan region to cancel the referendum.
According to Al-Ahram Weekly, the story goes, that the two emissaries managed to head off further deterioration in the strained relationships between Iraq's main communities, though there has been no talk about durable solutions to the country's problems.
U.S. envoy Deputy Assistant Secretary of State for Iraq Brett McGurk has apparently been able to broker an oil deal between the Shia-led government in Baghdad and the Kurdistan Regional Authority that had helped to achieve a breakthrough on the state budget.
Soleimani has reportedly succeeded in brokering a tentative truce between Iraqi Prime Minister Nuri Al-Maliki and other top Shia leaders who have been engaging in a nasty war of words in a highly polarised election campaign. According to different accounts, Soleimani, who supervises Iranian foreign policy in Iraq, pressured the Shia leaders to mend their fences in order to avert the breakdown of the Shia alliance ahead of next month's polls.
Iran has remained tight-lipped about Soleimani's business in Iraq, but Iraqi media have reported that he was involved in attempts to resolve the disputes between Al-Maliki and the Kurdistan Regional Government and Sunni politicians over ongoing disputes with his government.