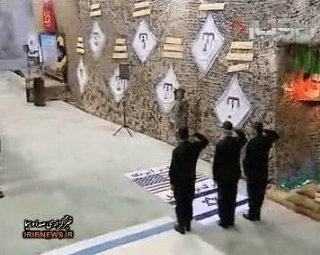 January 5, 2016: Early today, Iranian Parliament Speaker Ali Larijani visited a new Islamic Revolutionary Guard Corps (IRGC) underground missile base. The visit reveals the second deep "underground missile town" since October 2015.
Images and videos released after the visit indicated that the IRGC have transferred several Emad missiles to the underground base. As displayed on 11 October 2015, this newly developed weapon is a long-range, precision-guided ballistic missile that can be controlled up to the moment of impact. It is allegedly the most advanced weapon currently in Iran's possession.
Following the visit, Larijani vowed that the legislature would allocate a much larger budget to the country's missile program. He commended the IRGC in making significant scientific and technological breakthroughs for the Iranian military, and added that IRGC military power is "intimidating the enemy."
Despite fledgling international efforts to prevent Iran from building its weapons capabilities, Iran has ramped up its military manufacturing efforts in recent years, including the successful completion of the Emad missile system and strengthening air defense systems with the use cutting edge technology.
Even in light of the JCPOA, Iran seems to be making strides in advancing its goal to obtain a military upper hand in the region. Particularly amidst recent growing tensions, the growing danger that Iran presents is increasingly becoming cause for alarm.