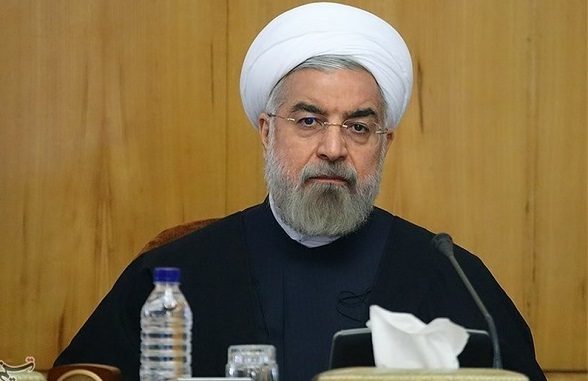 Iran's President Rouhani said on Wednesday that Yemen's missile attack targeting Riyadh on Saturday was "a reaction to Saudi aggression", Al-Arabiya reports.
"How should the Yemeni people react to the bombardment of their country. So they are not allowed to use their own weapons? You stop the bombardment first and see if the Yemenis would not do the same," Rouhani was quoted as saying by Tasnim news agency.
Rouhani was apparently commenting on Riyadh's Monday statement claiming Iran was responsible for the attack that involved a ballistic missile launched from Yemen. The missile, intercepted by the kingdom's air force on Saturday, reportedly targeted Riyadh Airport. Houthi rebels have been accused of carrying out the attack. Rouhani added that the Saudis had made a strategic mistake considering the U.S. and Israel's "Zionist regime" as friends, and Iran as an enemy.
"Great powers and the West have always sought to create gaps and differences among nations and countries of the [Middle Eastern] region," Rouhani said and added that he hopes "rulers in certain countries of the region will understand the reality."
The president also accused Saudi leaders of meddling in Syria's and Iraq's domestic affairs, as well as of "strengthening Islamic State."
A day earlier, Saudi Crown Prince Mohammed Bin Salman described Iran's supply of rockets to the Houthis as "direct military aggression" that could be an act of war. Saudi air defenses intercepted the ballistic missile heading toward Riyadh. It was brought down near Riyadh airport without causing casualties.
"The involvement of Iran in supplying missiles to the Huthis is a direct military aggression by the Iranian regime. This "could be considered as an act of war," the Saudi Press Agency quoted the crown prince as saying during a telephone conversation with British Foreign Secretary Boris Johnson.
Saudi forces on Saturday intercepted and destroyed a ballistic missile near Riyadh international airport, reportedly fired from Yemen by the Huthi rebels. It was the first reported Huthi missile launch to reach Riyadh and threaten air traffic, underscoring the growing threat posed by the conflict on Saudi Arabia's southern border.
In the meantime, the Saudi Foreign Minister Adel al-Jubeir on Monday warned Tehran the Kingdom would not tolerate "any infringement" on its national security, following a weekend missile attack on Riyadh by Iran-backed rebels in Yemen.
"Iranian interventions in the region are detrimental to the security of neighboring countries and affect international peace and security. We will not allow any infringement on our national security," Jubeir tweeted.
Jubeir said his country reserved the right to respond to Iran's "hostile actions".