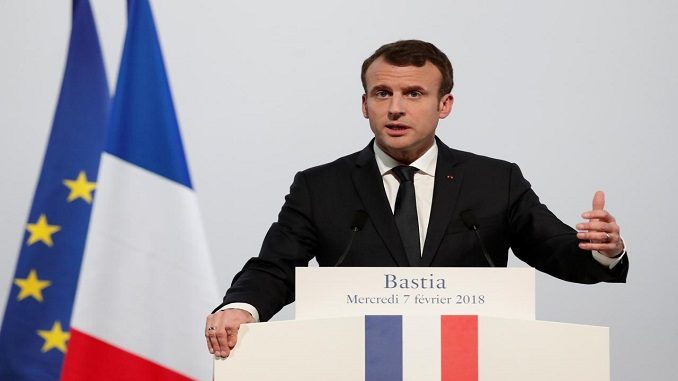 French President Emmanuel Macron recently said that Iran's ballistic missile program must be placed under international surveillance. In this, France seems to be going along with the Trump administration's bid to get tougher on Tehran, while preserving the nuclear deal, that the U.S. president has threatened to scrap, Iran News Update reports.
The 2015 nuclear deal was meant to stop Iran from further development of nuclear weapons. The U.S., Britain, France and Germany are working on a plan to meet Trump's May 12th deadline for addressing Iran's ballistic missile tests and its regional meddling.
The signatories to the nuclear deal want to preserve it, especially since nothing better had been offered, according to Macron, who added that the use of Iranian-linked missiles in Yemen and Syria needs to be addressed because they were a security problem for French allies.
"I want a new cycle of negotiations with regional parties and the permanent members of the Security Council, like we did for the nuclear deal, but widening it to regional countries so that we can reduce and eradicate this insecurity. And (we need) to put Iran under surveillance over its ballistic missiles. It's indispensable for the security of the region and so we need a mechanism of sanctions and control adapted to that," Macron told reporters late on Tuesday.
Iran claims that its nuclear work is for purely peaceful purposes, but has refused to discuss its missile program, as the United States and the Europeans have requested. On February 8th, Iranian Deputy Foreign Minister Abbas Araqchi said that the West must ensure that the nuclear deal succeeds before attempting to negotiate other issues.
Macron cited Iranian influence in Iraq, Lebanon and Yemen when he pointed out that Tehran's foreign policy "can sometimes be a factor of destabilization and we need to have a dialogue with the Iranian regime."
"And [We need] to put Iran under surveillance over its ballistic missiles. It's necessary for the regional security and so we need a mechanism of sanctions and control adapted to that. I think all forms of military solution to this situation are an error. We've lost too much time on the ballistics and on regional activities," he added.
These remarks by Macron follow the recent downing of an Israeli warplane returning from a bombing raid on Iran-backed positions in Syria. The French foreign minister travels to Tehran on March 4th. He wants to organize a meeting of the main players in the Syrian crisis.
"I want that we have in the coming weeks a meeting on Syria that eradicates the ballistic activities in Syria that put in danger all the regional powers," he said.
The French leader also mentioned the country's position on the use of chemical weapons, saying "France will strike" if — in violation of international treaties — chemical weapons are used against civilians in the Syrian conflict. He added that he hadn't yet seen proof this was the case.
U.S. President Donald Trump, in his turn, has repeatedly stated that the United States will leave the Joint Comprehensive Action Plan for Iran's nuclear program if Iran fails to fulfill its amendments. The deal was reached in 2015 by Iran and the 5+1 group that includes China, France, Russia, United Kingdom, United States and Germany. It specifies that Iran will adhere to developing the peaceful nuclear program in exchange for lifting anti-Tehran sanctions.