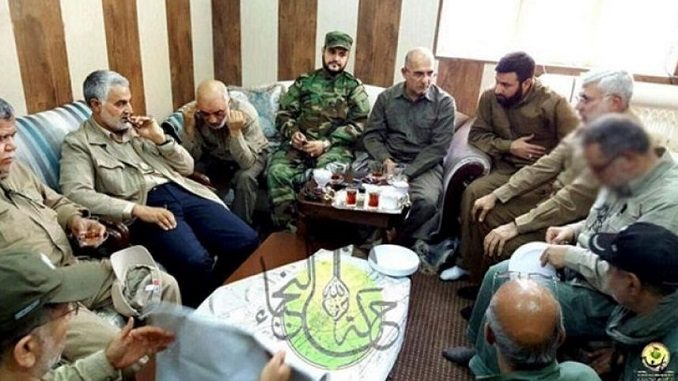 A group of Iraqi fighters loyal to Iran's Supreme Leader is trying to forge a land route from Iran to Syria. It threatens to exacerbate tensions in the region, Haaretz reports. Loyal to Tehran, the Nujaba group fighting to create a supply route through Iraq to Damascus illustrates Iran's determination for regional influence.
The Nujaba group, which has about 10,000 fighters, is now one of the most important militias in Iraq. Though made up of Iraqis, it is loyal to Iran and is helping Tehran create a supply route through Iraq to Damascus, according to Iraqi lawmaker Shakhwan Abdullah, retired Lebanese general Elias Farhat, and other current and former officials in Iraq.
"If Iran can open this road they will have access through Iraq and Syria all the way to Hezbollah in Lebanon," said Farhat.
The route will run through a string of small cities including Qayrawan and will help Iran make a decisive strategic breakthrough. To open it up, Iranian-backed militias are pushing into southeast Syria near the border with Iraq, where U.S. forces are based.
The Nujaba militia is one example of the way Iran is seeking to expand its Shi'ite influence in Iraq and across the wider region. In the 1980s, Shi'ite-dominated Iran was at war with Iraq, where Sunni Muslims held power despite being a minority of the population.
Iraqi cleric called Akram Kaabi said that Nujaba is allied with Iran. Last autumn, he said his group follows "Velayat-e Faqih," or Guardianship of the Jurist, the ideological cornerstone of Iran's theocratic system of government, according to the Iranian Tasnim news agency. A representative at an Iranian Revolutionary Guards office in Tehran declined to comment on the Nujaba militia.
Iraqi Prime Minister Haider al Abadi and other senior Iraqi officials have not spoken out in public about Nujaba or the new road. But some players within Iraq's governing coalition want to distance Iraq from Iran.
Asked to comment on Iran-backed militias moving into southeast Syria near where American forces are based, U.S. Army Colonel Ryan Dillon, a spokesman for the U.S.-led coalition fighting Islamic State, said:
"The Coalition reserves the right to protect itself and its vetted Syrian partners against any threat. The United States remains deeply concerned about the Iranian regime's malign activities across the Middle East which undermine regional stability, security and prosperity."
The current route that Iran is pushing to open through Iraq was not its first choice. Soon after Iran became involved in the Syria conflict in 2011, the Iranians attempted to open a logistical supply line through the Kurdish region of northern Iraq to Syria, lawmaker Abdullah, who is a member of the Iraqi parliament's security and defence committee, told Reuters.
The new route bypasses the Kurdish region but could still destabilise the country, according to Abdullah.