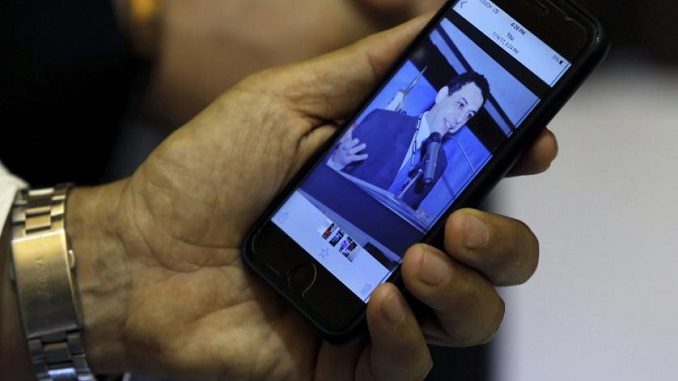 Lebanese engineer detained in Iran, Nizar Zakka, informed the Lebanese Prime Minister Saad Hariri on his continued psychological torture and his appalling detention in a telephone conversation on Thursday, Asharq Al-Awsat reports.
In September 2015, Zakka, the secretary-general of the Arab information and communications technology organization IJMA3, arrived in Tehran upon an invitation of the Iranian then-Vice President for women and family affairs, Shahindokht Molaverdi, to speak at the second international conference on the role of women in sustainable development.
He was kidnapped as he was heading to Tehran Airport at the end of the conference, and later news emerged about his imprisonment by the Iranian authorities.
In November 2015, Iranian state television aired a report saying he was in custody and calling him a spy with "deep links" with U.S. intelligence services. It also showed what it described as a damning photo of Zakka and three other men in army-style uniforms, two with flags and two with rifles on their shoulders. But that turned out to be from a homecoming event at Zakka's prep school, the Riverside Military Academy in Georgia, according to the school's president.
In the autumn of 2016, an Iranian Revolutionary Court sentenced him to 10 years in prison with a $4.2 million fine on charges of cooperating against the state before his lawyer appealed the sentence.
In February 2017, an Iranian Revolutionary Guard commander claimed that Zakka had confessed that he had tried to "encourage decadence" in the Iranian society. The alleged confession has not been independently verified. Zakka's supporters deny accusations he is a spy and note he was invited to Tehran by the government. The Mehr news agency quoted General Sayyari of the Guard's intelligence service as saying that Zakka tried to corrupt "Iranian women and families." The general was not identified by his first name.
Lawyer Antoine Abou Dib, Zakka's attorney, said that the Zakka"managed to contact Prime Minister Saad Hariri despite the difficulty of communication and continuous interruptions."
The Lebanese engineer spoke about psychological torture and poor detention conditions. Detained in Iran for nearly two years, Zakka asked Hariri Thursday why his government had yet to issue an official statement on his situation.
"Zakka wondered why, to date, like in any other country and for less important matters, no official statement has been issued by the Lebanese government, the Parliament or the Ministry of Foreign Affairs regarding his kidnapping," the lawyer said in his statement.
Zakka also questioned why the Iranian ambassador to Lebanon "was not even summoned to the Ministry of Foreign Affairs for questioning about the case of kidnapping a Lebanese citizen."
During an official visit to Lebanon in November 2016, Iranian Foreign Minister Mohammad Javad Zarif described Zakka's detention as a "U.S.-Iranian problem."
Hariri told Zakka about his efforts, in coordination with President Michel Aoun and the Foreign Ministry, to get him released, according to a statement by Abou Dib. He, for his part, stressed that he was raising the issue with every Iranian official visiting Lebanon and that he had consistently sought assurance of Zakka's good health. According to the statement, the Lebanese premier expressed confidence that Aoun would raise Zakka's case during his upcoming visit to Iran. The family of Zakka has previously urged Lebanese President Michel Aoun to exert efforts to secure his release during his upcoming visit to Tehran.
"Nizar Zakka is a Lebanese citizen who does not possess any other nationality, and he went to Iran under a visa placed on his Lebanese passport by the Iranian Embassy in Beirut. He hopes the Lebanese state will shoulder its responsibility, end injustice against him and restore the dignity of Lebanese citizens outside their country so that any Lebanese citizen can regain confidence in their country, state and Lebanese passport," Zakka's family said in a letter addressed to Aoun.
"Ever since he was detained in September 2015, the Lebanese state has been fully absent and has not issued a single statement about his abduction and detention, in contravention with all international norms and laws. The presidents of Azerbaijan and Brazil, and even Kuwait's foreign minister, have liberated their citizens and returned them with them during their visits to Iran, and we urge you to return Nizar with you," the family said, addressing Aoun.