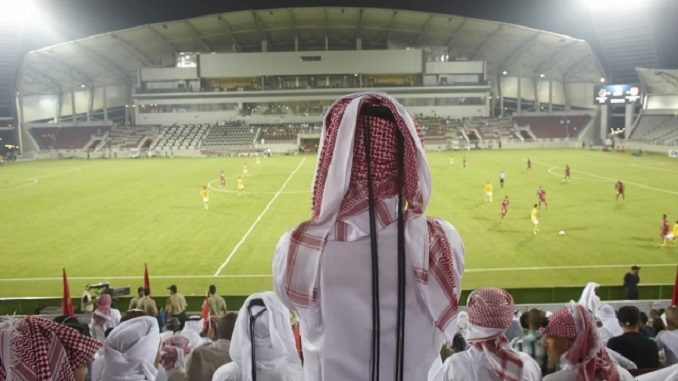 Football's World Cup in 2022, to be hosted by Qatar, was always billed as a regional event. Other countries in the Gulf offered hotel rooms and training facilities. The United Arab Emirates (UAE) said it would even host matches. But last June the UAE, Saudi Arabia and Bahrain broke off diplomatic relations with Qatar, angry about its support for Islamists and its ties to their nemesis, Iran, The Economist reports.
On the sidelines, a substitute is warming up: Iran. It is in early talks with Qatar to take on some of the hosting duties. Iran is already helping to feed Qatar amid a Saudi-led blockade. Its islands of Kish and Qeshm have hotels aplenty that could accommodate fans. Hooligans may be disappointed: Iran enforces sharia at its resorts, including a ban on alcohol.
Questions still abound over how Qatar, with no football culture and a stifling climate, won the rights. Including Iran would invite even more scrutiny. But Qatar may have little choice. Though it promised to build 100,000 hotel rooms by 2022, it will struggle to reach 45,000. Germany had 2m foreign spectators for its World Cup in 2006, and Russia hopes for more than 1m later this year.
Qatar may come up short on stadiums, too. It says eight will be ready by 2022, not the 12 it promised. Iran is unlikely to host matches, but the mere possibility has turned its ban on women in stadiums into a political football at home. Iran's involvement could present other complications if America and Israel, both of which failed to qualify for this year's World Cup, improve their form. Hassan al-Thawadi, who oversees Qatar's World Cup planning, insists that all will be welcome.
"If North and South Korea can come together for the winter Olympics," he says, "so can the Middle East at the World Cup."
Iranian Parliament Speaker Ali Larijani, while voicing regret over the ongoing Saudi-led diplomatic and trade boycott against Qatar, stressed Iran's commitment to its friendly relations with the peninsular Arab country.
Larijani made the remarks in a meeting with his Qatari counterpart, Ahmad bin Abdullah Al Mahmoud, on the sidelines of the 13th session of Parliamentary Union of the OIC Member States (PUIC) Conference on Tuesday in Tehran, adding "we do not believe that the use of sanctions regime is a rightful method to deal with countries."
The Speaker of the Advisory Council of Qatar, for his part, highlighted dialogues as the way to settle disputes between countries and slammed certain countries' inclination toward military aggression and violence. He hailed Iran's stance as based on friendship and rationality, saying his country values the friendly ties with the Islamic Republic.
"Qatar was dragged into a big conspiracy the roots of which are still unknown, but what is certain is that each country should take steps that would not endanger its own interests, as well as those of other nations in the region," he said.
Previously, Iranian President Hassan Rouhani said Tuesday that his country does not accept "unjustified and unfair pressure" exerted on the Qatari people and government. Rouhani made the remarks as he welcomed Qatar's Parliament Speaker, Ahmed al-Hamoud, in Tehran, the Iranian official news agency reported.
"Iran and Qatar have been and still have good relations and stood side by side in various circumstances," he said, stressing that "exerting pressure on Qatar in any way is unacceptable and if there are differences between the region's countries, especially between neighboring countries, they must be settled through dialogue".
The Iranian president added that "the Iranian political will is based on close cooperation in all relations with Qatar" he said, adding that "Iran is prepared to cooperate with Doha in all fields and does not allow the Qatari people to be subjected to unfair pressures".