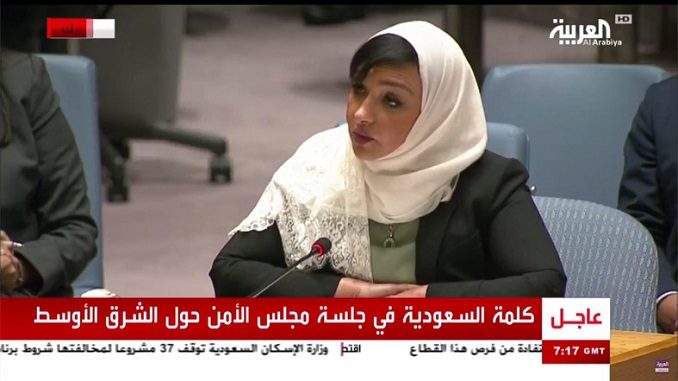 The Political Coordinator of the Saudi Mission in the United Nations, spokeswoman Manal Hassan Radwan, said that Iran has taken advantage of the lifting of sanctions to destabilize the region.
"Iran has taken advantage of lifting sanctions to destabilize the region," Radwan, said in her speech on Wednesday, during a meeting of the Security Council on the Middle East, Al Arabiya reports.
The diplomat also referred to the kingdom's position on Palestine, Syria and Trump's recent decision on the Iran nuclear deal. The Kingdom of Saudi Arabia emphasized its full support for any measures and sanctions that would limit Iran's aggressive moves and interference in the countries of the region, Saudi Press Agency, SPA, reported on Wednesday.
The kingdom regretted Iran's misuse of the economic benefits of lifting the sanctions after the nuclear agreement and its use to continue destabilizing the region and developing its ballistic missile programme and support for terrorism in the region, including Hezbollah, Houthi militias in Yemen and armed militias in Syria.
"Saudi Arabia supports and welcomes the recently announced U.S. strategy towards Iran, its hostile behavior, and funding of international and regional terror," King Salman bin Abdulaziz said during a cabinet session on Tuesday.
King Salman briefed ministers on the telephone call he had with Trump during which he underscored Riyadh's support of his firm strategy towards Iran, its aggressive activities and support for terrorism in the region and worldwide.
Saudi Arabia has previously supported the nuclear agreement between Iran and the 5 + 1 powers, hoping that it would prevent Iran from acquiring nuclear weapons.
However, Iran had exploited the economic benefits and used them to destabilize the region, especially through its ballistic missile development program and support of terrorist groups including Hezbollah and the Houthi militias in Yemen.
Iran has not only done so in flagrant violation of the resolution, but it also transferred such potentials and experience to its client militias, including the Houthi militia, which used the missiles to target the kingdom, hence exposing falsity of Iranian claims that the development of these capabilities is only for defensive reasons.
In continuation of its aggressive approach, through its Revolutionary Guard and Houthi militia, Iran repeatedly targeted international navigation passageways in the Red Sea and the Arabian Gulf.