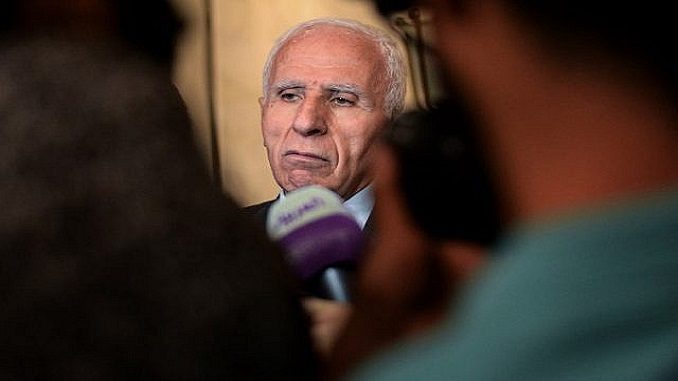 Azzam al-Ahmad, the head of Fatah's delegation for Palestinian reconciliation, on Monday night said Iran is the "number one sponsor" of division between Palestinian factions. Fatah, which dominates the Palestinian Authority, and Hamas, the Islamist terror group which has controlled the Gaza Strip since it seized the enclave in 2007, are currently in the midst of a reconciliation process that began in October.
In an interview with the Saudi satellite station Al-Arabiya, Ahmad, in rare full-throated criticism of Iran by a senior Palestinian official, pointed to the Islamic Republic as the key cause of tensions between the two main Palestinian factions.
"Iran is the number one sponsor of the division… the number one financier," he said, adding that "it seems one of the conditions for the return of Iranian support [to Hamas] is the continuation of the division."
Iran was once Hamas's largest backer, but relations cooled after Hamas refused to back Iran's close ally Syrian President Bashar Assad in his country's civil war that began in 2011. However, this year, after Hamas received new leadership in the form of political bureau chief Ismail Haniyeh and Gaza chief Yahya Sinwar, relations between Tehran and the terror group have been restored. In August, Sinwar said Iran is now "the largest backer financially and militarily" of Hamas's armed wing.
Ahmad's comments come as Hamas and Fatah are struggling to implement an agreement to advance reconciliation efforts uniting the West Bank and Gaza under the PA. Fatah officials have demanded that the PA control all weapons in the Strip, while Hamas officials have stated that their armed wing, the Izzeldin Kassam Brigades, will not be disarmed. According to Hamas chief in Gaza Yahya Sinwar, Iran is the biggest sponsor of the Kassam Brigades.
In the past six weeks, delegations of senior Hamas officials including Deputy Hamas Politburo chief Salih al-Arouri visited Tehran to meet with Iranian officials. Following Hamas's visit to the Iranian capital in October, Iran pledged to increase its military support for the Gaza-based terror groups, including the Kassam Brigades.
"Iran's support for the resistance will increase day by day," Ali Akbar Velayati, a senior adviser to Iranian supreme leader Ali Khamenei, said in October.
Before signing the unity deal, Hamas was seen as having its back to the wall after its former top patron, Qatar, came under fire from Gulf allies for supporting it. Palestinian Authority President Mahmoud Abbas has said he does not want any country interfering in the reconciliation process, except for Egypt, which is sponsoring the talks.