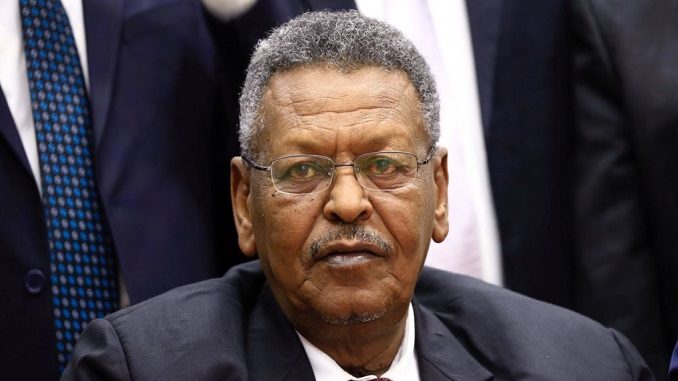 A Sudanese minister Monday ruled out Sudan's return to the Iranian axis asserting the relationship with Teheran has been "completely broken off", Sudan Tribune reported. Hatim Alsir, allied with the Democratic Unionist Party of Mohamed Osman al-Mirghani, has called for a review their calculations, to those who thought that Sudan's return to its "Arab and Islamic environment" was brief.
Hatim Alsir who is form the Democratic Unionist Party of Mohamed Osman al-Mirghani called those who think that Sudan's return to its "Arab and Islamic environment" was brief to review their calculations.
During a recent meeting with President Vladimir Putin in Russia, President Omer al-Bashir accused the U.S. administration of planning to divide Sudan into five countries. He sharply criticized the U.S. foreign policy in the Arab and Islamic world.
Observers said his statements prepare to restore relations with Iran and withdraw troops from Yemen.
"Sudan's position is irreversible unless Iran changes its hostile policies and stopped targeting the Sudan's Arab brothers and attempts to destabilize their security and stability," Alsir stressed.
Sources say al-Bashir was not happy with the "To Do List" that was submitted by the U.S. Deputy Secretary of State John Sullivan during his recent visit to Khartoum before the full normalization of bilateral relations. Sullivan apparently demanded that the Sudanese government put an end to the systematic confiscation and demolition of churches and mosques.
He also reportedly said during a speech last Friday in Sudan's second largest city that in order for relations between the nation and the United States to improve, the county must do a better job of protecting free speech and religious expression.
Sudanese Defense Minister Abdel Rahman Abu Ouf said in a speech delivered at a meeting of the Saudi-led Islamic alliance against terrorism in Riyadh on Sunday, that he regretted that the U.S. administration continues to designate his country as a state sponsor of terrorism.
"We regret that Sudan is still in this list unjustly, even though the Sudanese temperament is very distasteful to the practice of terrorism and strongly condemns it, but the unjust will wanted the Sudan not to exploit its resources so as not to be able to build its homeland. However, we seek to solve our problems quietly and we are taking into account Kissinger's words "America's friendship is more dangerous than its enmity," he said.
Additionally, he reiterated that Sudan will support the Arab-Islamic alliance to combat terrorism under the leadership of Saudi Arabia, to limit its spread and reduce its effects on people.