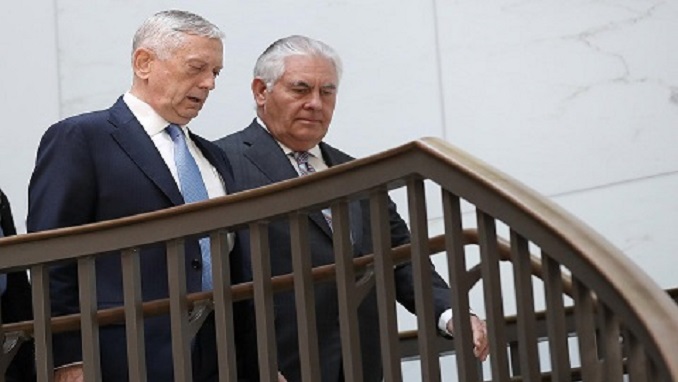 U.S. President's head security and foreign policy officials have introduced him with a plan that will grant more vigorous reaction to Iranian aggression at domestic lines and abroad in the Middle East, Newsweek reports.
The plan was handed over to the president by his defense secretary, Jim Mattis, secretary of state, Rex Tillerson, and national security adviser, H. R. McMaster.
Trump is considering the introduced proposal, and it could be announced by the end of September.
The plan would be aimed at cutting back the Iran's ballistic missile program, as well as at curbing Iran's sponsoring of Shi'ite proxy groups in the Middle East, including the Lebanese militant group Hezbollah, the Houthi rebels in Yemen and militias in Iraq that support the Shi'ite-majority government.
The strategy would also cover Iranian deliveries to Sunni militant group Hamas, which rules the Gaza Strip and accepts Iranian financial and military aid to enhance its capability to strike Israel, with which it has fought three wars since 2008.
"I would call it a broad strategy for the range of Iranian malign activities: financial materials, support for terror, destabilization in the region, especially Syria and Iraq and Yemen," a senior administration official said.
The strategy would keep Washington in the agreement and also keep up the pressure on Iran's regime to not use for nefarious means the greater resources at its disposal from assets unfrozen by the deal.
The Iranian regime has vastly violated the nuclear agreement, although the IAEA did not find any wrongdoings. Many images emerged on the internet where military soldiers are seen on private Iranian airlines being transferred to Syria